I love a good prawn curry especially with coconut milk and paired with some delicious rice noodles. It makes for a really easy midweek meal for you and your friends or family. If you are feeling ambitious, then why not make your own curry paste, but if you are in a hurry, then do what I did and used store-bought curry paste.
Hope you enjoy my recipe! xx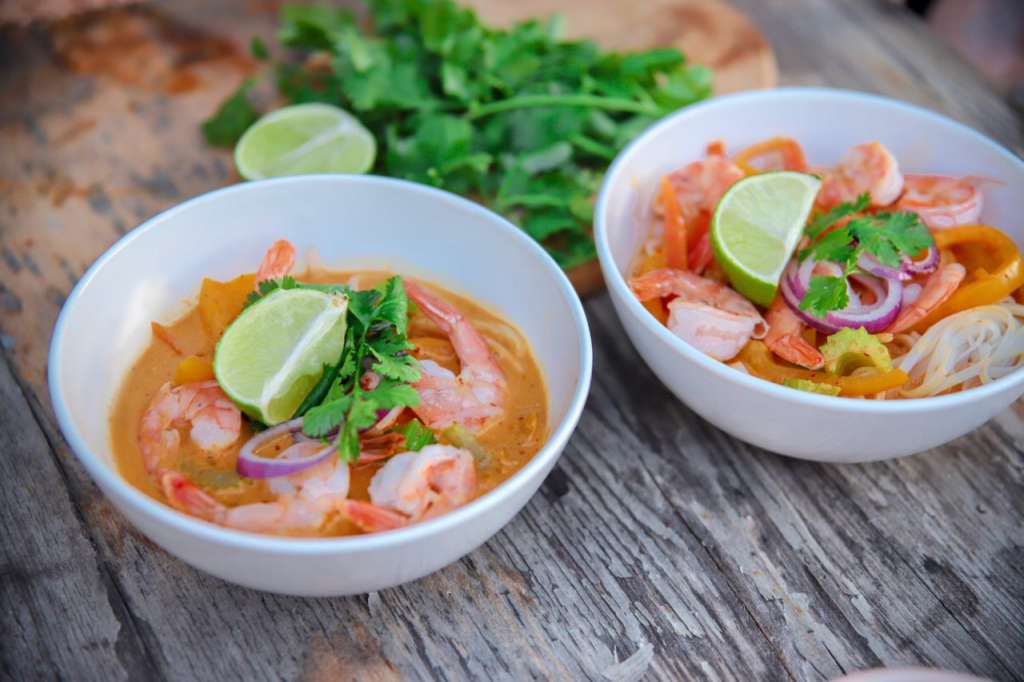 INGREDIENTS

2  tablespoons olive or coconut oil
400-500g of raw peeled and deveined prawns
1 shallot, finely chopped
3 garlic cloves, minced
1 red or orange pepper, sliced
1 carrot, sliced
2 celery sticks, sliced
1 tsp of freshly minced ginger
1 can of light coconut milk (or regular)
3 tbsp of curry paste
2/3 portions of rice noodles (follow the packet instructions)
Sliced red onion (optional)
Chopped coriander (optional)
1 wedge of lime (optional)
1/2 teaspoon salt
1/2 teaspoon pepper
INSTRUCTIONS
In a large frying pan over medium heat and add 1 tablespoons of oil. 
Add the prawns and cook until pink on both sides, season and set aside.
Take out a saucepan and add another tablespoon of oil on a medium heat.
Fry the shallot and garlic first for approx. 5 mins then add the carrot and peppers until they have started the soften slightly. 
Add the ginger, fry it off with the rest of the vegetables.
Add the curry paste, mix well then quickly add the coconut milk and stir everything together.
Add a little water if you feel that you need a little extra liquid.
Leave all the ingredients to simmer on a medium heat for 5-8 minutes or until the vegetables are soft but not mushy.
Add the celery and leave for a further 2 minutes.
To serve, place a handful of rice noodles in a bowl and cover with the coconut curry. Add the prawns on top followed by the coriander, sliced red onions and the wedge of lime.