I left cold Switzerland on a Thursday evening after a miserable and cold week to land in Krabi airport, Ao Nang, Thailand on Friday night at 10pm, greeted by the warm tropical heat.
Waking up in Phu Pi Maan Hotel was just a perfect start, seeing the ocean in the near distance followed by kilometres of palm trees stretching right to the base of tall rock formations covered in bright greenery felt great.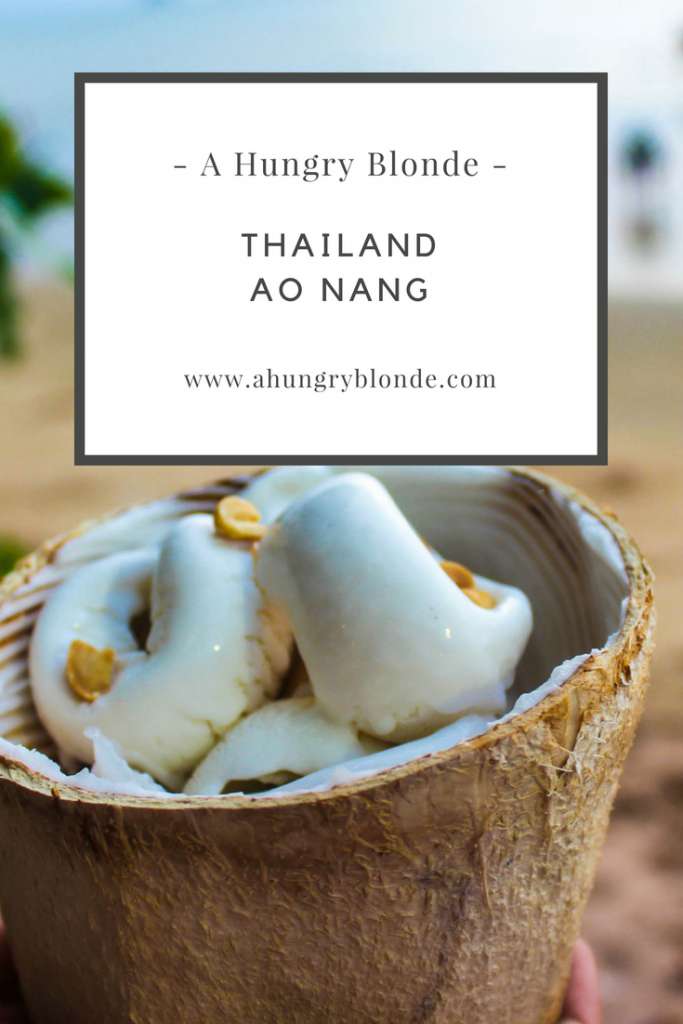 TIPS & TRICKS ON ARRIVAL
Ao Nang was my first real experience of Thailand as an adult and I had not been back to Asia for many years so here are some quick facts & tips about Thailand to get you started:
The Southern part is mostly Muslim compared to the North which has a strong focus on Buddhism – they are known as Thai Malays
EVERYTHING can be negotiated so do not take anything for face value
Make sure you check certain holidays as some days are alcohol free in the area which is NOT what you want on your holiday (although popular tourist spots will probably still serve alcohol)
If you do end up having to go to an International Hospital Clinic then make sure that you do not get ripped off – they will ask if you have medical insurance, say no so that you get a better rate and do not stay longer than you feel necessary as they will always try to get more money out of you.
If you are asked to remove your shoes before entering a shop or place, then please do so as it is a sign of respect in Thailand
If you want to eat fresh fish then eat it at lunchtime as it will have just come off the boat that morning
If you are like me and do not love sugar in every drink you have then I would recommend ordering your cocktails without sugar, that goes for simply shakes(ice+fruit) as well.
WHERE TO STAY
Phu Pi Maan Hotel
I found this place on Agoda and honestly, it was just perfect. It is not on the beach like a few of the other top hotels of the area however, the pools, sun terrace, breakfast buffet and gym makes up for it.
Just a couple of things to note- it is next to Muslim Street, therefore, there is a mosque next to it (the chanting did wake me up on day one as we had not shut the balcony window properly) just make sure the door is closed properly and you will not hear a thing.
NO ALCOHOL IS SOLD ON SITE! But they do allow you to bring alcohol in and with all the bars and restaurants, you are not lacking in your choice.
Just relax and enjoy this quiet place if you do not feel like making your way to the beach.
Other Recommended hotels:
For beach lovers: Centara Grand Beach Resort & Villas Krabi
WHERE TO EAT
Ao Nang has a good few gems where you can find really great authentic food at a variety of different costs.
"The Grotto nestles under an ancient limestone cliff on the edge of beautiful Phranang Beach. Enjoy a leisurely lunch here with your favourite book or lose yourself in the magic of a perfect sunset as you enjoy cocktails and a menu of light snacks with soft sand underfoot and a hint of romance in the air. "
If you want to go all out and impress someone then definitely take them here! It may seem expensive but if you live in Switzerland or a big city then you will quickly see that the quality, quantity and service exceeds anything we would get back home. It is not easy to book here, my boyfriend was emailing back and forth for about 4 days before being able to get a table. This restaurant belongs to the Ravayadee hotel in Railay which you can access by longtail from Ao Nang.  (Small tip: if you do eat here, try to stay on Railay as getting back to Ao nang is far form ideal – last longtail at 9pm)
There are three menus you can choose from, but you can mix and match  if you feel like it  – we both decided to go for the Andaman Seafood set but wanted to the dessert from the Ocean & Earth Set.  If you can finish this meal then please let me know as we were both unable to do so!
The views are beautiful and the setting is so quiet and intimate – absolutely stunning to be sitting inside of a grotto.
We simply stumbled upon this place on the way back from a massage and honestly it is a really great place for a bite to eat. We went twice at lunch time and both times we were not disappointed.
Street food on Muslim Street
Apparently in Thailand, most of the population eat street food on a daily basis as it is cheaper than having to cook for yourself. After having heard this, we figured we just had to do one night of street food and besides the fact that it is cheap, it was actually some of the best food we had during our stay.
This place was recommended to us by  a few people and tripadvisor and it does not disappoint. It is just a tiny bit further on passed Ao Nang beach, direction Nopparat beach.
We really hit the jackpot on my first night with this meal. It was the perfect location as the weather was not great either. You felt like you were entering the tropical rainforest and the lobster, despite the fact that it was maybe a touch more expensive, was worth the cost.
Absolutely delicious meal.
This place is IMPOSSIBLE to get a booking for. We had to book at the start of the week to get in and does it live up to expectations??? If you want a cheap and cheerful meal whilst eating in a little open bungalow type of setup then yes, it is perfect for you. It is not pretentious or fancy or expensive. It is run by French guys and the service was great.
WHERE TO GO FOR DRINKS
This is far from the beach and is close to Jungle Kitchen. It is a cute little place if you want to just chill out with a cold beer or cocktail.
We went here for a quick Valentine's Day drink – it is best to either have a scooter or tuk-tuk for this as it is a steep walk up otherwise and if you are nicely dressed then the last thing you want to be doing, is getting all sweaty before a nice drink or meal.
The reviews for the food were average which is why we decided just to go watch the sunset.
At the bottom of the hill, the woman who checks reservation told us there was absolutely no space at all and the driver suggested we go to the place next door, however, once at the top, we thought "what the hell…" and decided to chance our luck. There is PLENTY of space for everyone, so even if you are told no, just head to the bar where you can pick your favourite cocktail and then make your way to the "hilltop" sign to enjoy that gorgeous view.
"Located in Ao Nang Walking Street, a few steps away from the beach road, Boogie Bar is a seventies-style bar curiously separated by the walking street's lane. The largest side of the bar features tables, chairs, a pool table, and the bar counter, while the smaller side on the other side of the lane hosts just a few tables and the stage on which performs a talented cover band. All the classic tunes of pop-rock are executed with brio by the live band which is the real centre of attraction in this quaint bar."
If you want some chilled live music post-dinner, then look no further. The music was great, the drinks are good too and we ended up spending a few hours here playing pool
WHAT TO DO
Ao Nang Beach
One thing that struck me as we made our way to the beach is the noise, those long tails are so loud! I would avoid hanging about the Ao Nang beach all day unless you do not mind the deafening sound of loud engines running all day long.
Try taking a boat out to one of the other islands near by or even just another beach further down.
Diving
We ended up doing our advanced open water course with Kon-Tiki which took up two of our days.
The guys were very professional and the experience was fantastic. Unfortunately, the visibility was not great the days we went diving but there are over 21 000 different species of fish in South-East Asia(yes, I learnt that on my course), so you will definitely find what you are looking for.
Monkey trail
In the far South West corner of Ao Nang the Monkey trail begins! It is a steep climb so be prepared for this before it starts to level out. The trail connects Ao Nang beach to Pai Plong Bay and it is a nice alternative to staying on Ao Nang beach. Just avoid feeding the monkeys as you never know how they will react.
Railay
Railay is a 15min long tail boat ride from Ao Nang beach. It is worth taking a trip out there if you want a change for a few hours. Just remember that after 6pm you can no longer buy your tickets from the ticket booths next to the beach, you will need to speak to the owners of the long tails directly and the price will generally go from 100 baht to 150 baht. The last boat back from Railay to Ao Nang is around 9pm so don't get caught out!!
Also if you love to climb then Railay is for you, this is one of the hotspots.
Thai massages
Number 9
Get as many massages in as possible! I regrettably did not have the time to make the most of this but if you can then go for it!  In Ao Nang the cost for a Thai massage or an oil massage is approximately 250-300 bath depending on where you go.
We experienced a massage on the beach, if you go beyond where the long tail boats are and passed the Last Fisherman Bar. You will come across a load of massage areas, I recommend you pick Number 9.
The woman who runs the place is very friendly and honest. If you want a strong massage then make sure you ask for it and just let them know as you go along if you require more pressure.
Sukhothai Massage & Beauty Salon
I only had a manicure and pedicure here but we were told that Pim (60 years old) is known for the best massages in Ao Nang.
Long tail boat tours
There are so many tours available from Ao Nang on a daily basis, you can go on a 4 Island tour, Sunset cruise, simply trip to Ko Phi Phi etc
The list is endless, do not pre-book anything as you are better negotiating in person. You are also able to pick from a private tour or speedboat tour if you do not want to be sharing the experience with others in your boat.
Gyms & Fitness
300 baht a session or 1'200 baht a week.
"A small space but it has everything you need to get a good workout in on any body part. The equipment is all new and in great working shape. Good cardio equipment that works perfectly. Air conditioned and a nice cool temperature." Tripadvisor
Muay Thai
It is a tuk-tuk trip away from the beach but it is not far and they provide a couple of classes day and offer more than just Muay Thai.
300 baht a session.
Extra information
Pharmacies
You will find a lot of chemists in Ao Nang, the pharmacists all speak English really well and were very helpful when we had issues such as ear infections etc The medicine is not too pricey either.
Ferries
Getting a Ferry to Ko Lanta for example is about 500 baht per person and goes directly from Ao Nang at 11.30 am. A van will pick you up and bring you to the pier which is further on down from Ao Nang.
Do not expect a beautiful comfortable ferry, it is very basic, if you can sit outside, I would recommend you do so as the seating inside can get very crowded.
Transport
Tuk-Tuks from the beach area are rougly 100 baht depending on where you are going.
Taxi to the airport is about 600 baht for the car, maybe they charge more if more than 2 people are in the car.
Scooters or "motorbikes" as they call them are 200 baht for the day (worth getting) so long as you are extra vigilant ! SO many accidents !