Swiss Meat contacted me at the start of the year, asking me if I wanted to be their Suisse Romande food blogger for their current campaign with Mon Bout de Suisse. The platform, Mon Bout de Suisse, helps support and promote Swiss meat and this year, they have launched a campaign based on the theme of pork meat and animal fats in general. Being a food blogger who enjoys a variety of dishes and produce, I definitely have my favourite cuts of meat ! However, I learnt a great deal about pork during this project and it was very fascinating.
We took to the streets of Lausanne to begin finding out what people knew about pork and animal fats. We began the project by interviewing brave volunteers and the results were very surprising and even slightly amusing.
The Interviews
I spent a day with the Swiss Meat team, interviewing locals about pork meat. They had really tricky questions to answer, such as: What nutrients can be found in the meat? Name as many cuts of pork as possible ? Origins of the meat and what standards do we have in Switzerland to control the quality of our meat.
Honestly, if the shoe was on the other foot, I don't think I would have been able to answer any better than our interviewees.

The interviews that day, led us to believe that pork isn't the most consumed meat in Switzerland, however, the numbers say differently. Pork is actually the most consumed meat in Switzerland, even more so than poultry !! Check out the statistics here! Yet, it doesn't seem to be everyone's first pick of meat, according to the Lausannois.
Personally there are certain cuts such as bacon and cured ham which I wouldn't have an issue with eating everyday but recently, I have made a decision to lower my meat intake and focus on quality local pieces.
The 3 main conclusions I learnt working with Swiss Meat:
1. People's favourite cuts of pork are:
Pork chops, cured ham, filet mignon, ribs, bacon ! I personally love pulled pork, bacon and hog roast.
2. The key nutrients found in pork are:
Pork is an excellent source of many vitamins and minerals, including thiamine, zinc, vitamin B12, vitamin B6, niacin, phosphorus, and iron. Pork is an excellent source of high-quality protein, so it should be effective for the growth and maintenance of muscle mass. Like other types of meat, it may also help improve muscle function and exercise performance.

3. People care about quality and sustainability !

Swiss farmers are concerned about preserving the environment, they produce following the ecological guidelines and contribute strongly to the preservation of our cultural landscape and biodiversity. This is what makes Swiss meat a part of Switzerland particularly marked by sustainable development.
When speaking to the people of Lausanne, we really noticed just how important it is for them to know where their meat is from and many favour going to a butchers. We also have strong laws regarding the protection of animals and over the years, they have become even more strict when it comes to animal legislations. You will find more information in French, here!
4. People were quick to judge the essential fats found in meat
Animal fats are composed of various fatty acids, which are either saturated, monounsaturated or polyunsaturated. Polyunsaturated fatty acids (n-6 and n-3 fatty acids) are vital and should therefore be consumed in sufficient quantities.
The fat contained in meat is present either just on top of the muscle, in between and inside the muscle cells. Contrary to popular belief, the fat content of muscle meat is generally very low. Advances in animal farming, and the improvement of standards, as well as opting to cut leaner pieces, have made it possible to sell meat with a lower percentage of fat.
It was a very fascinating project, and I really enjoyed talking into the camera and speaking with the Lausannois.
Test Your Knowledge
Mon Bout de Suisse are running a SUPER FUN quiz, so test your knowledge and find out more about Swiss meat. Lets see if you can beat my score to be in with a chance of winning some amazing prizes
– ENTER HERE –
My Asian Pork Recipe: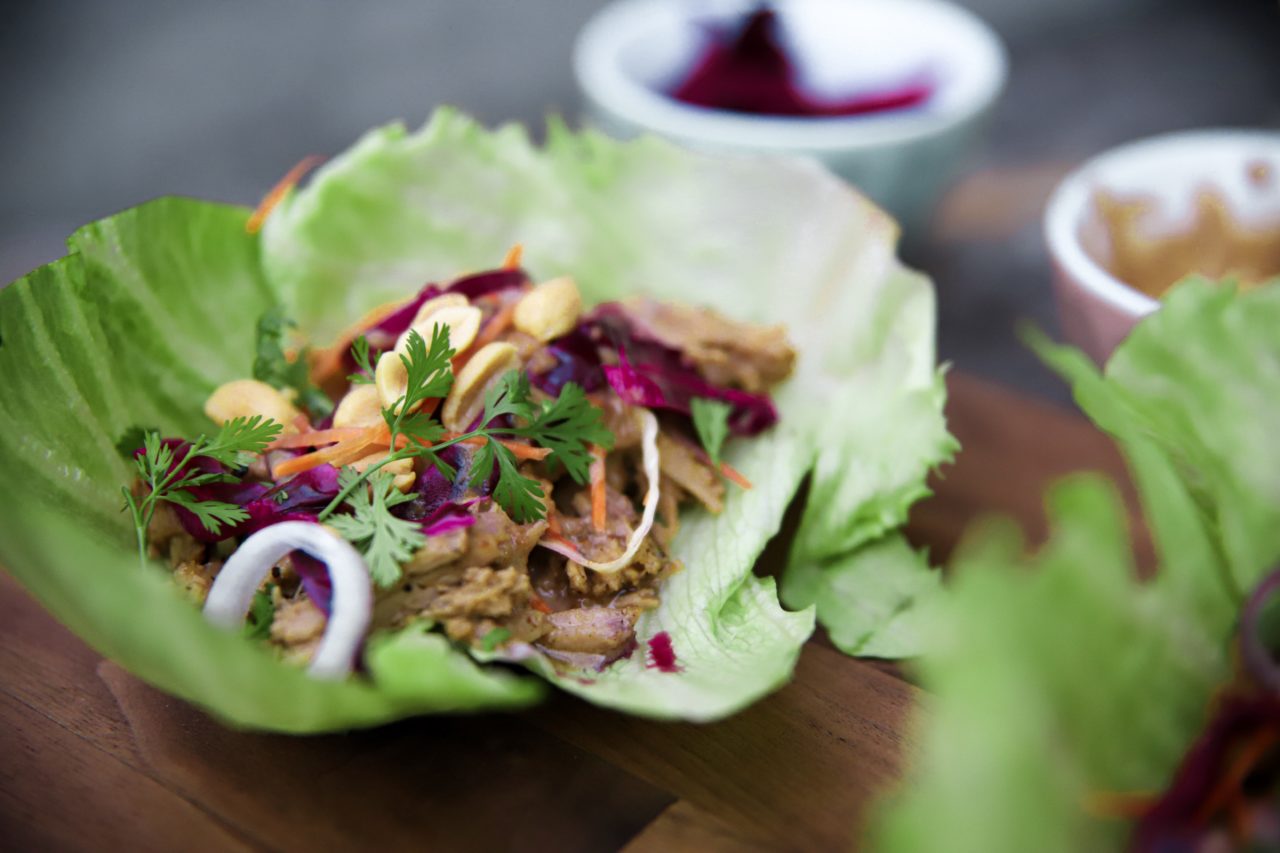 With Summer just around the corner, we all like to enjoy lighter meals and my pork Thai-inspired lettuce wraps with satay sauce are really flavoursome and the perfect meal to enjoy during the week.