It is almost New Year and if you are like me, then you are struggling to think of what to make after all those Christmas dinners ? I have the perfect solution, this vegetable tagine and all its sides is a perfect sharing dish for you and your friends on New Year's Eve. It is warm and spicy with lots of bright and beautiful colours. Throw in some flatbread for an additional touch. All the ingredients can be found in Migros.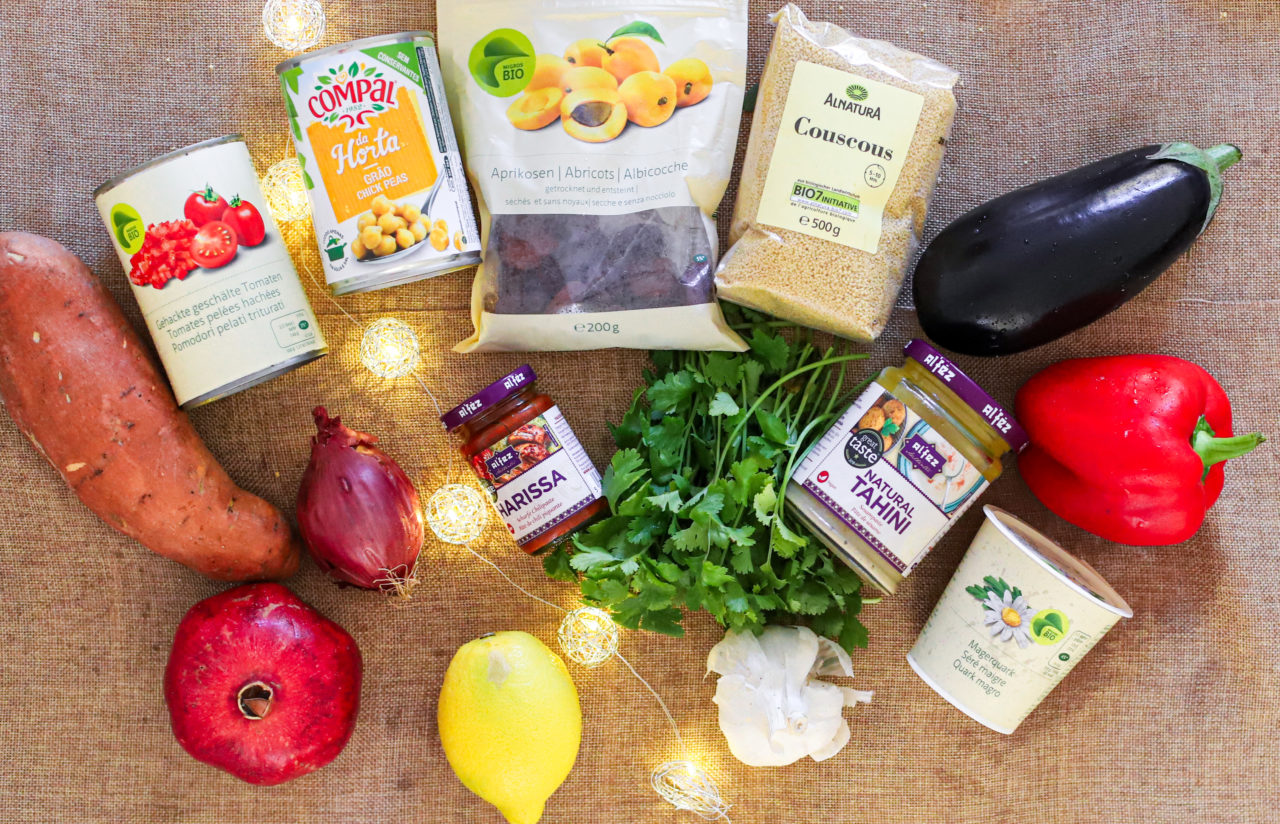 Ingredients
1 sweet potato, peeled and cut into chunks
1 aubergine, cut into rough chunks
2 courgettes, halved lengthways, sliced
1 yellow or red pepper, stalk removed, seeds removed, cut into rough chunks
1 tbsp mild olive oil
1 small onion, thinly sliced
2 garlic cloves, thinly sliced
1 tsp ground coriander
1 tsp ground cumin
1 tsp of ground cinnamon
200g tin chopped tomatoes
1 tbsp harissa paste
1 tbsp clear honey
100g dried apricots, halved
200g tin chickpeas, rinsed and drained
handful chopped fresh coriander, mint and parsely to garnish
salt and freshly ground black pepper
For the yogurt dip:
150 g of Séré maigre
1 pomegranate
Hummus:
200g of tinnned chickpeas
1 tbsp of olive oil
1 lemon juiced
1-2 tbsp of tahini

Method
Tagine:
Mix the onion, garlic sweet potato, aubergine, courgette and red pepper in a large bowl.
Place all the vegetables, tinned tomatoes and a tin filled with water, spices, in a slow cooker on a low heat for 4 hours or in a saucepan on a low heat for 4 hours. Stir occasionnally throughout the process.
With 1 hour to go stir in the harissa paste, honey, apricots and chickpeas until well combined.
After it has all finished stewing, remove from the heat and place in a large serving bowl.
Sprinkle the tagine with the chopped herbs and serve with freshly cooked couscous or rice.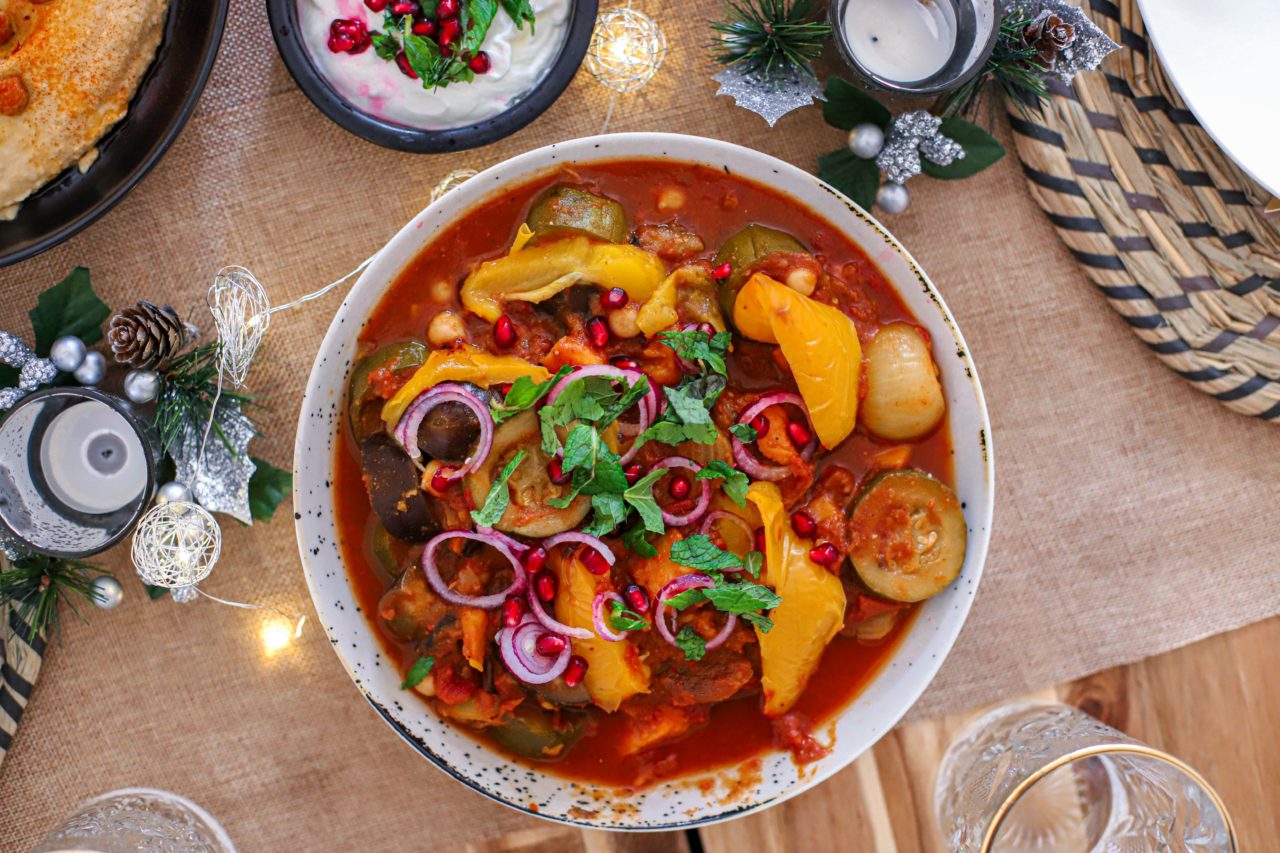 Hummus:
1. Remove the liquid from the tinned chickpeas but keep in a bowl.
2. Place the chickpeas in a blender, add the juice of the lemon, tahini and sprinkle of salt.
3. Blitz it all together and if it is really thick, add a tbsp of chickpea liquid.
4. Once you have a nice smooth consistency, place the hummus in a bowl and top with a tbsp of olive oil and sprinkle with paprika.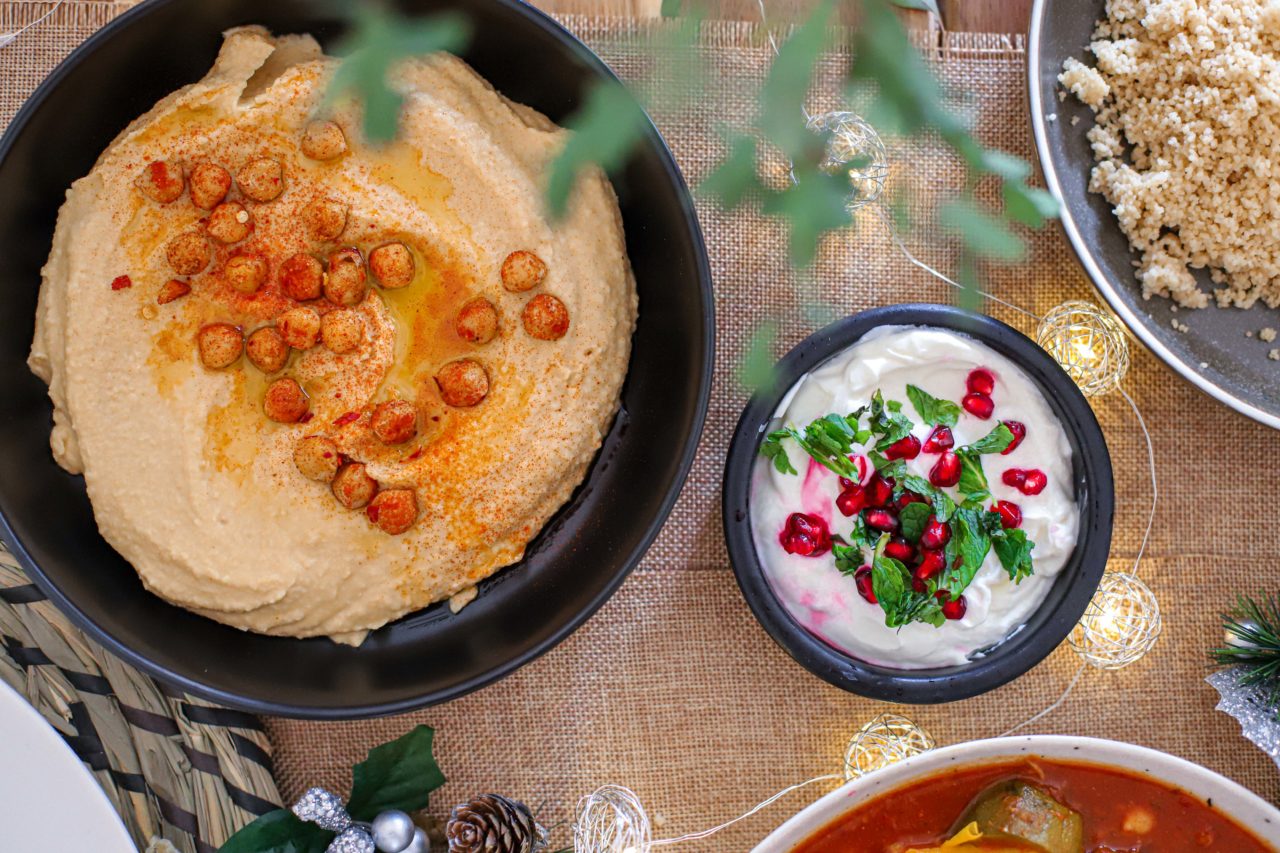 Yogurt dip:
1. Place the séré maigre in a bowl and top with pomegranate seeds and chopped herbs.