After having experienced Iceland, I have just wanted to keep on discovering Northern countries.  Helsinki is actually a fantastic short-break destination and especially over the Summer month's you can make the most of your days due to the neverending daylight.
This city is really the ideal size for a long weekend, not too big, yet not too small. The people of Helsinki are amongst the loveliest I have ever met, so helpful and welcoming. From boat trips to the local islands to relaxing in saunas, there is literally always something to do in Helsinki – even during Midsummer!
I booked my flights to Helsinki, not realizing to what extent the city shuts down over this period. I would recommend not visiting the city at the end of June, however, after having experienced a Helsinki Midsummer I will provide you with some useful tips in case you find yourself in a similar situation.
"Midsummer is a main national holiday in Finland. Originally a celebration of the summer solstice, it is typically spent with friends and family at a summer cottage away from the city, either partying or relaxing. This holiday takes place at the end of June and traditions such as bonfires and bathing in saunas are highly popular"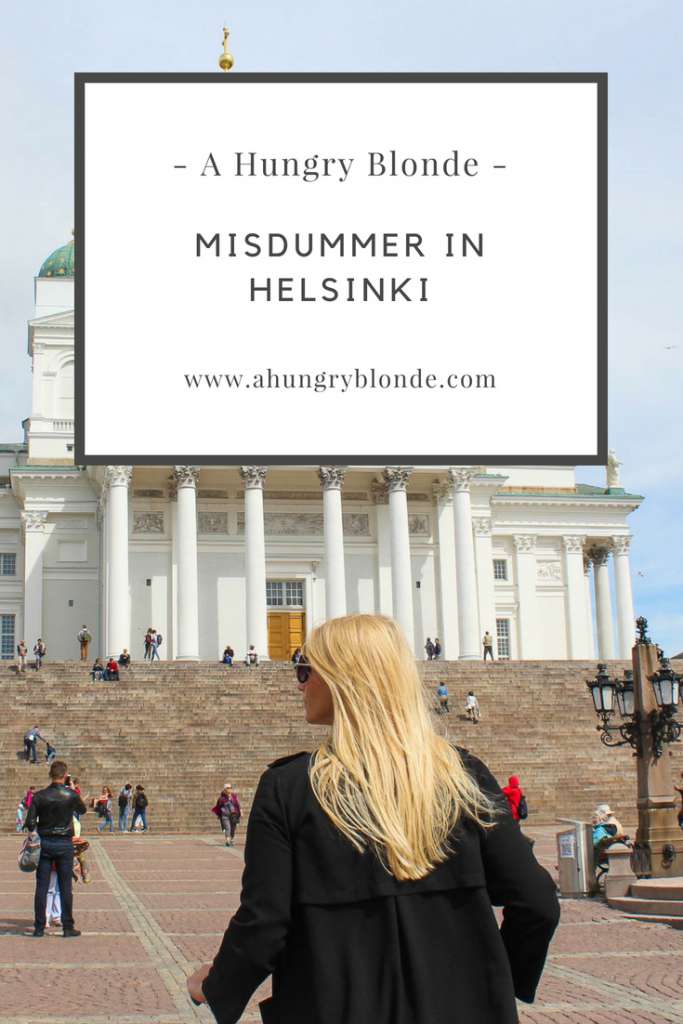 Friday Night
I landed late at night (11pm) and was greeted by broad daylight and my better half. We made our way from the airport to the Glo Art Hotel by Uber. The hotel was located just minutes on foot from the heart of the city centre. It was an interesting choice of accommodation due to its traditional architecture combined with its 21st century modern feel.


The exterior is completely made of stone, the lobby and the dining area give you the impression of being back in the Viking days where as the rooms and hallways are very modern and fully equipped for all your needs.

Saturday Morning
We started the day with the hotel breakfast buffet which encompassed a wide array of choices to suit everyone's needs and allergies.


FUN FACT –  In Finland, many people are gluten and lactose intolerant, so you will find that most of the food is wheat and dairy free
I enjoyed the marshmallows as a fun addition to the breakfast menu! We then rented two bikes for 4 hours, free of charge from the hotel to be able to get an overall glimpse of the city.


We made our way down to the sea and rode along the seafront until we got the centre's Market Square. We walked around the market, admiring all the fresh fruit, vegetables, furs and souvenirs that were on display.

Then we decided to venture on down the side streets admiring the little boutiques in search of some food, we walked amongst the rows of red brick buildings, finally stumbled upon somewhere that was open, Strindberg (- €€) a café and restaurant with outdoor seating for us to enjoy the beautiful lunchtime sun.   We enjoyed 3 slices of smørrebrød (rye bread) topped with three different options (please see in the images below)And a strawberry, goats cheese, pumpkin seed salad with a balsamic dressing, all washed down with a glass of champagne.

Saturday Afternoon
We decided to make the most of the Midsummer tradition and try out the centre's Allas Sea Pool  (€) The Allas Sea Pool  is great for families, couples and groups of friends.  There are mixed saunas, single sex saunas, an Arctic pool (for the brave ones), as well as swimming pools. There are also multiple bars and cafés. Your ticket allows you to come and go as you please for 10 hours straight. Definitely a bargain!


After we enjoyed the constrast between the baking saunas and the ice pool, we wondered on down by the river where we discovered a series of bars, the Holiday, the Shelter amongst others. Unfortunately they were closed over Midsummer. I ended up having my first Helsinki Long Drink in Sköne. A long drink consists of: Finnish gin with grapefruit soda. What is not to love?

Saturday Evening
After a quick turnaround and a few extra layers, we were told to check out Hernesaaren Ranta that evening as there was a Midsummer party on right by the sea. We rode down to the port where we enjoyed some Korean street food at the Kimchi Wagon – (€). We made our way to the bar and just chilled out amongst the locals, enjoying our Hendricks & Tonic and watching the bonfire from a distance. It was a really laidback place to be and on a nice day, I recommend coming down earlier to make the most of the outdoor section.


Sunday Morning
After another easy morning we made our way into the city on our bikes again. Definitely the easiest way to get around Helsinki. We visited the beautiful Cathedral in Senate Square, wondered up to the Temppeliaukio church (church built into stone), stopped by the Orthodox Church down by the sea and eventually made our way to Stockmann department store as we had planned on having lunch at Primero Eatery  -(€€) This urban little joint can be found on the 3rd floor of the shopping centre. Primero Eatery has just recently opened and it is such a quirky little café with bright colours, interesting lighting and some delicious food choices. As the neon lights on the wall say " Classy but hipster" and this is the perfect way to describe the place.
Sunday Afternoon
We enjoyed the sauna so much on Saturday, that we felt we had to go find another one to try out. We went to Löyly – (€€ – €€€) This is definitely a more exclusive, more beautiful location to enjoy a sauna. Löyly is an urban oasis occupying a stretch of beautiful Helsinki waterfront, there is a lovely terrace where you can enjoy a bite to eat and a drink on a Summer's day. I recommend you try out the Smoke Sauna as it is the closest you can get to the traditional sauna. Please note that you may come out feeling a little lightheaded due to the smoke residue that is removed every morning.


Sunday Night
After another relaxing afternoon of saunas and jumping into the Baltic sea, we got dressed up for dinner at Bro (brü) – (€€€) When we arrived to the restaurant, I was really impressed with the layout. It is situated right on the riverfront, tall glass windows allows the light to flood in and it really is quite a classy place. However, when I finally sat down and saw the menu, I was disappointed. Apparently on a Sunday evening they do not offer the à la carte menu or their tasting menus but there was no information anywhere (website etc) which would have informed us.  As you can imagine, when you are looking forward to tasting some modern Finnish dishes and you are then presented with a Caesar salad, burgers and paninis for options, you are not thrilled. Nevertheless, there were only two possibilities, leave without any food (as restaurants stop serving at around 9pm!) or pick something and hope for the best. We noticed that there was one fish dish and one meat dish- I never had such an easy time selecting my meal!
It may not have been the experience I was expecting, but the food was delicious and I would recommend you try the tasting menus on a different evening.


Monday Morning
Our last day already! Midsummer was finally over and the population of Helsinki trippled over night. We simply wondered around the city, enjoying the morning hustle and bustle, it was a beautiful morning so we decided to tick off a few final items we wanted to do( Yes, mainly food related) before leaving the city in the afternoon.
We went to Paulig Kulma – Coffee Shop – (€)  I saw this place earlier in the weekend but being Midsummer it wasn't open until Monday.  The colours and decoration are right up my street with all the white and copper combined with the clean Scandinavian wooden design. They also serve AMAZING COFFEE!  It had been a very long time since I  had such a delicious dark roast double espresso.They also offer a wide range of other delicious treats, donuts, raw tarts, pastries etc. It is definitely a great place to recharge your batteries.


Enjoy lunch at the Old Market Hall (Vanha Kauppahalli)  – Indoor market – (€ – €€€)This market hall dates back to the 1800s when they decided that due to hygiene reasons it would be better to host it indoors. There are dozens of stalls selling anything from Finnish reindeer to various types of salmon. I recommend you sample some of the salmon on display – I don't think you will find fresher salmon elsewhere.


EAT ICE CREAM! I had spent a whole weekend with no ice cream therefore when I saw Magnum Helsinki – OPEN UNTIL 13.08.2017 – (€) I knew I had to try it out. This was just for a bit of fun. It isn't expensive and it creates pretty little Magnum ice creams. Worth checking out over the Summer.


Other useful addresses provided by the lovely blogger, Anna Sofia the SylePlaza
Restaurants – Dinner
Ragu – fine dining
Juuri – Finnish food (use local ingredients of each season)
Olo – contemporary Scandinavian (one of the best in Helsinki)
Nokka – fine dining in a nice setting.
Savoy – best restaurant in Helsinki with great views
Restaurants – Lunch
Teatteri – trendy place in the very center
Lungi – corner bistro in a cool neighborhood – super casual
Story – really good food and in a cool place (Vanha Kauppahalli)
Roslund – really good burgers in an old market building
Brunch
Hotel Kämp – luxury brunch
Klaus K – luxury brunch
Sandro (in a hipster area)
Story (Kauppahalli or Kamp / two restaurants)
Drinks
Liberty or Death – popular bar
Rusty Bar (upstairs of the restaurant Shelter)
Grotesk – cool small bar
A21 – special cocktails
Why join the navy when you can be a pirate – a trendy place
Saint-Jean à Helsinki
Après avoir visité l'Islande en 2015, je suis tombée amoureuse du Nord et j'avais qu'une chose en tête, partir à l'aventure des pays nordique. Helsinki est une merveilleuse destination pour un long weekend, surtout pendant la saison d'été car vous pouvez profiter de cette éternelle lumière du jour.