Sponsored by Made.com
The living room is an amazing space, it is big with high ceilings and has so much beautiful natural light which is everything I love. The main feature of this room is really the grey marble fireplace, so the aim was t,o ensure it was highlighted and that the furniture fit around this main element.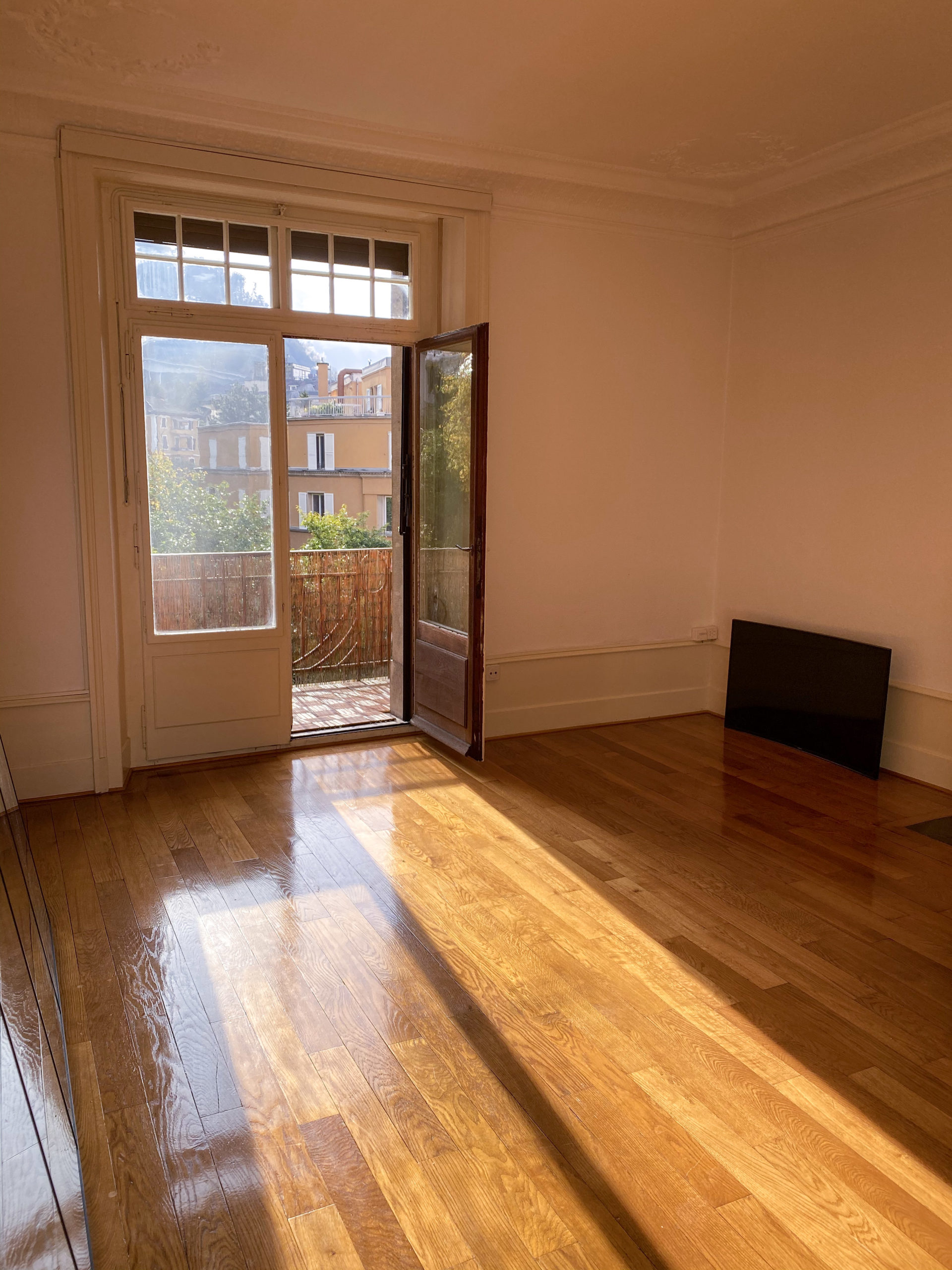 Colours, Tones and Textures
In terms of colour tones, I went with neutral, greys and whites. I feel these tones are calming and great on their own but also allow for a splash of colour if you wish to mix it up from season to season.
I did add metallic details to break up the colours and catch people's attention.
I really enjoy bringing in texture too which is why I went for the jute natural rugs and Made.com bamboo suspension light and standing lamp as well as the Ikea bamboo vase with the pampas.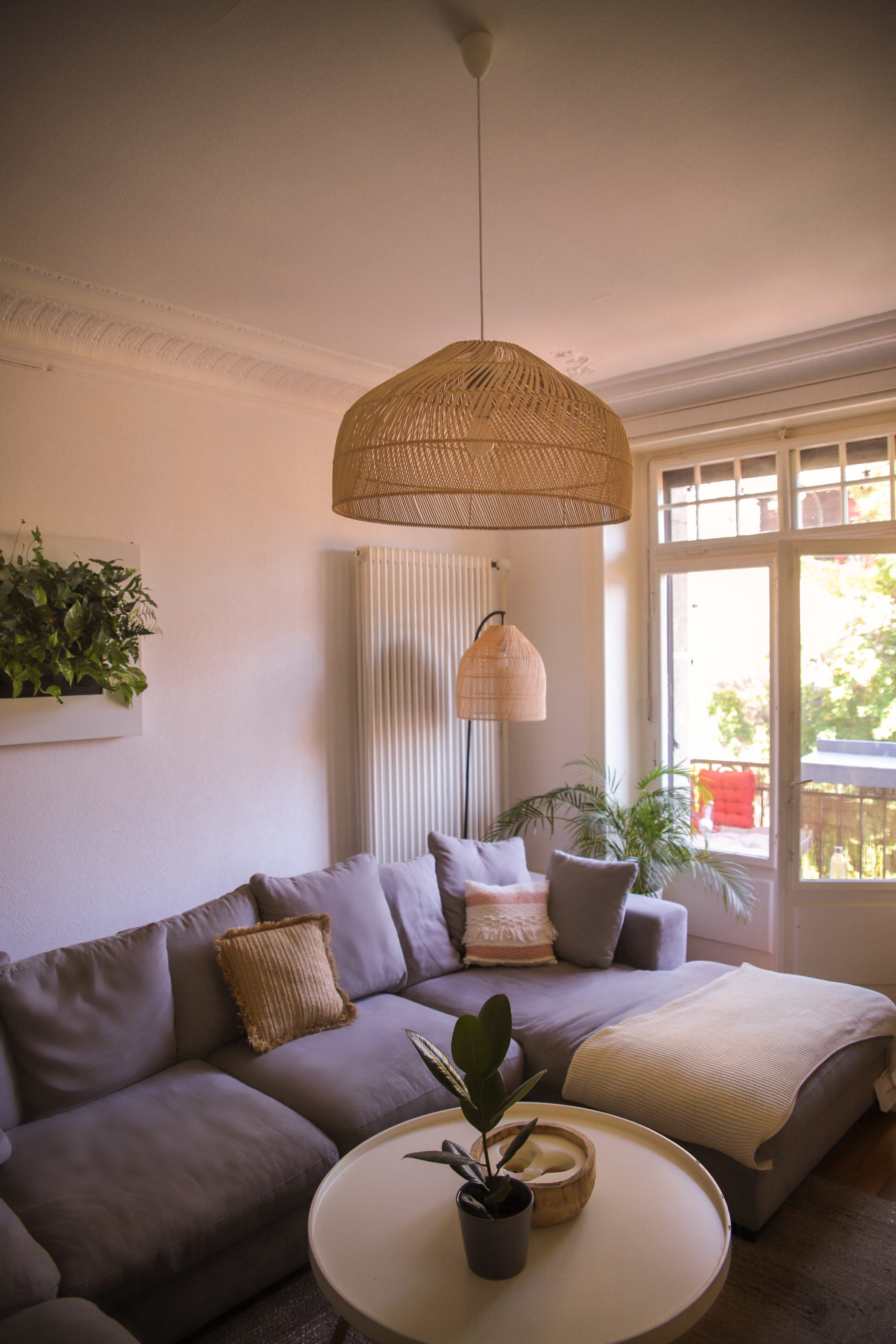 Furniture
From my previous apartments, I did already have a selection of furniture which I didn't necessarily want to change so I had to figure out how I could integrate it into this amazing space !!
The main items being the living room low table, the mirror, and the bar cart!
When contemplating the style of sofa, it was obviously budget dependent too but after previously owning a more rigid vintage style, I definitely wanted to go down a cozier style, especially due to the fireplace and the fact that I love entertaining.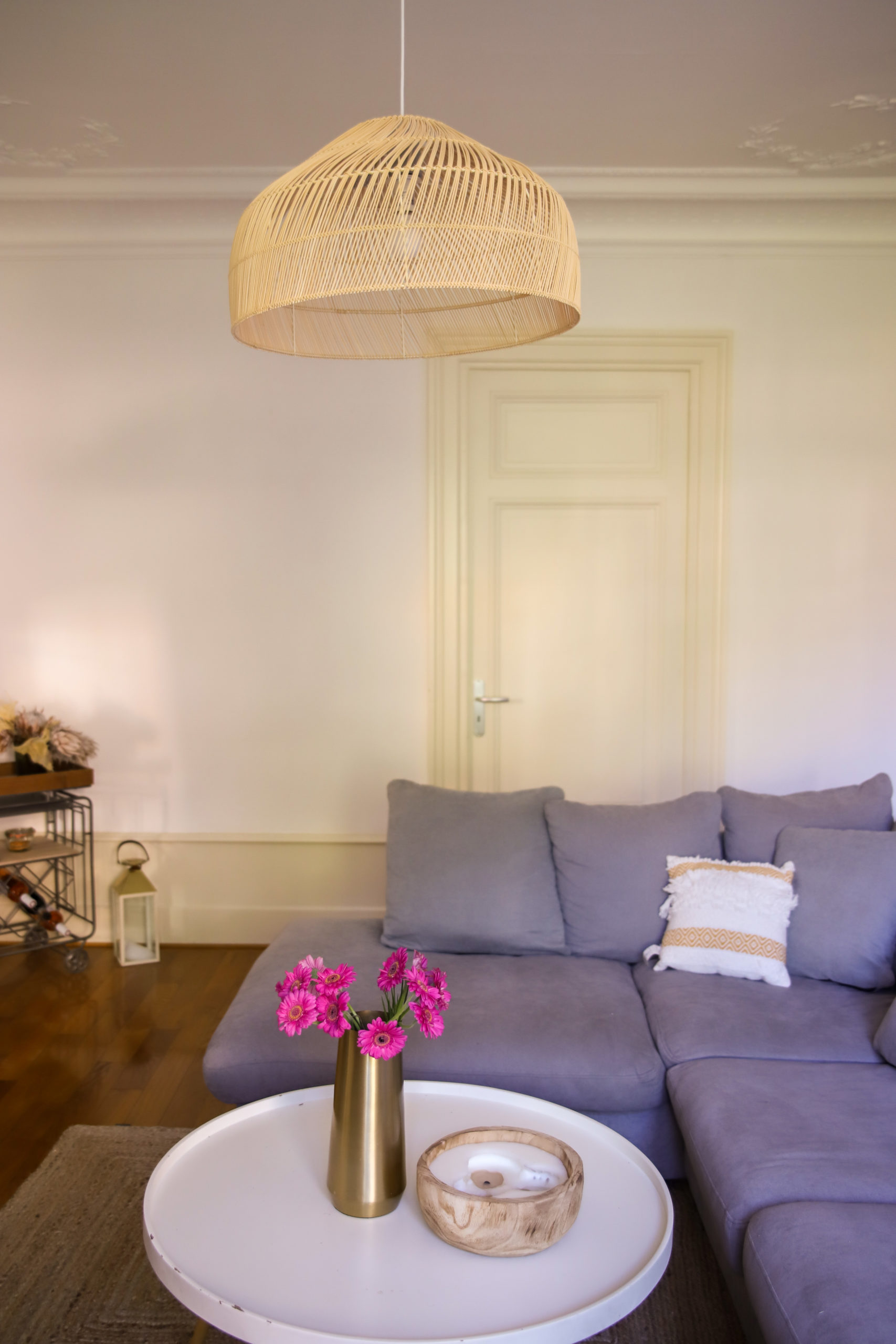 I found this great light grey Conforama deal on Facebook marketplace and it is extremely comfortable and huge (3m long) it really fits the room like a glove and I was able to position it just how I wanted with regards to the fireplace.
With the room being the size it is, it was necessary to also fill in the corners which is why I love my little wooden bar cart which I had got on Deindeal in 2016, it is the perfect size and adds a nice touch to the room.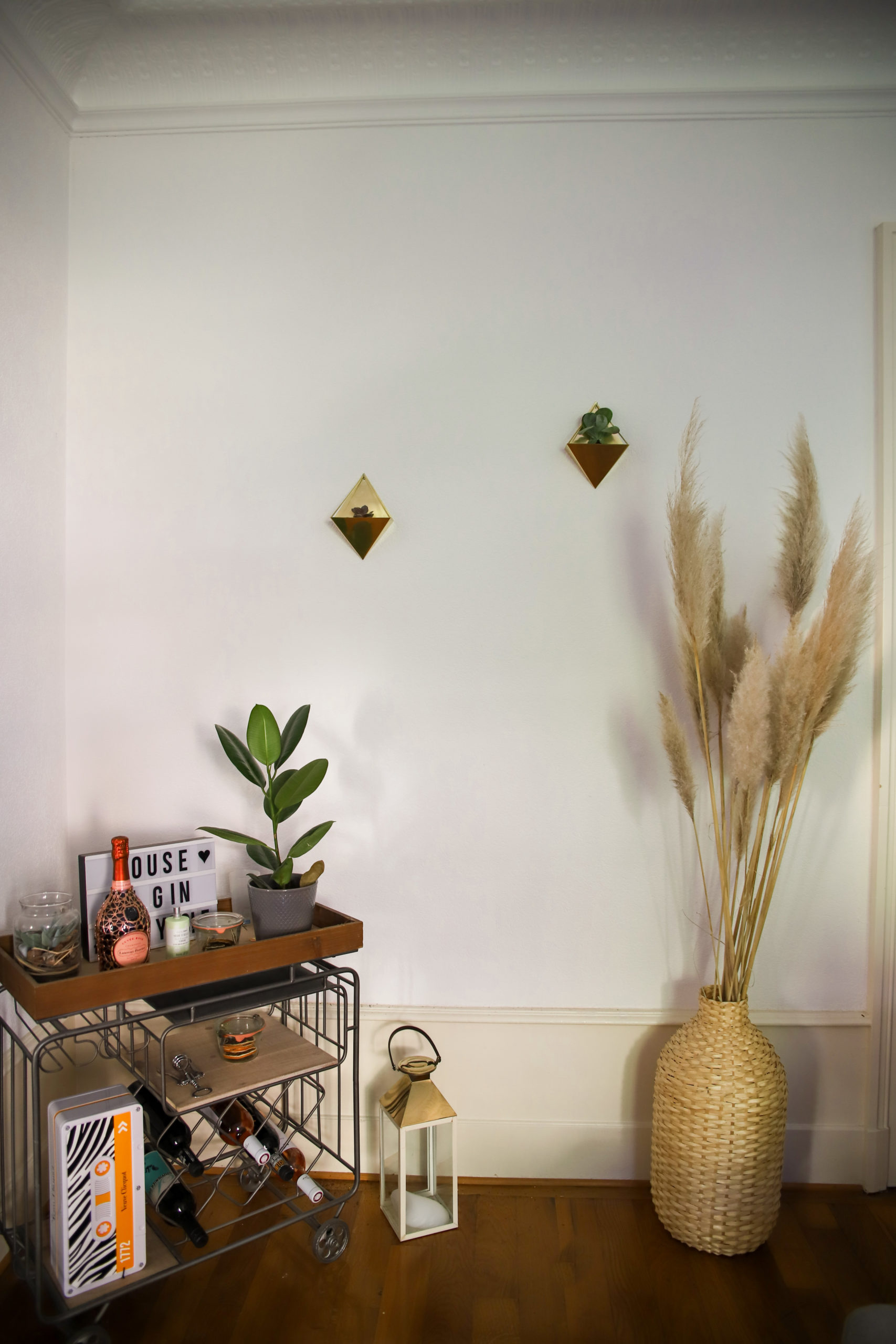 I have got a temporary solution for my tv stand but will find a more permanent one, once I am inspired Or if Samsung feel like gifting me the wall art one !
Lighting and Atmosphere
Lighting is KEY !! I can't stand harsh bright lights, I find it kills the ambiance and it almost hurts the eyes.
But with my ceiling being so high, I really wanted a good-sized suspension and a standing lamp keeping with the tones of my IKEA mirror and vase.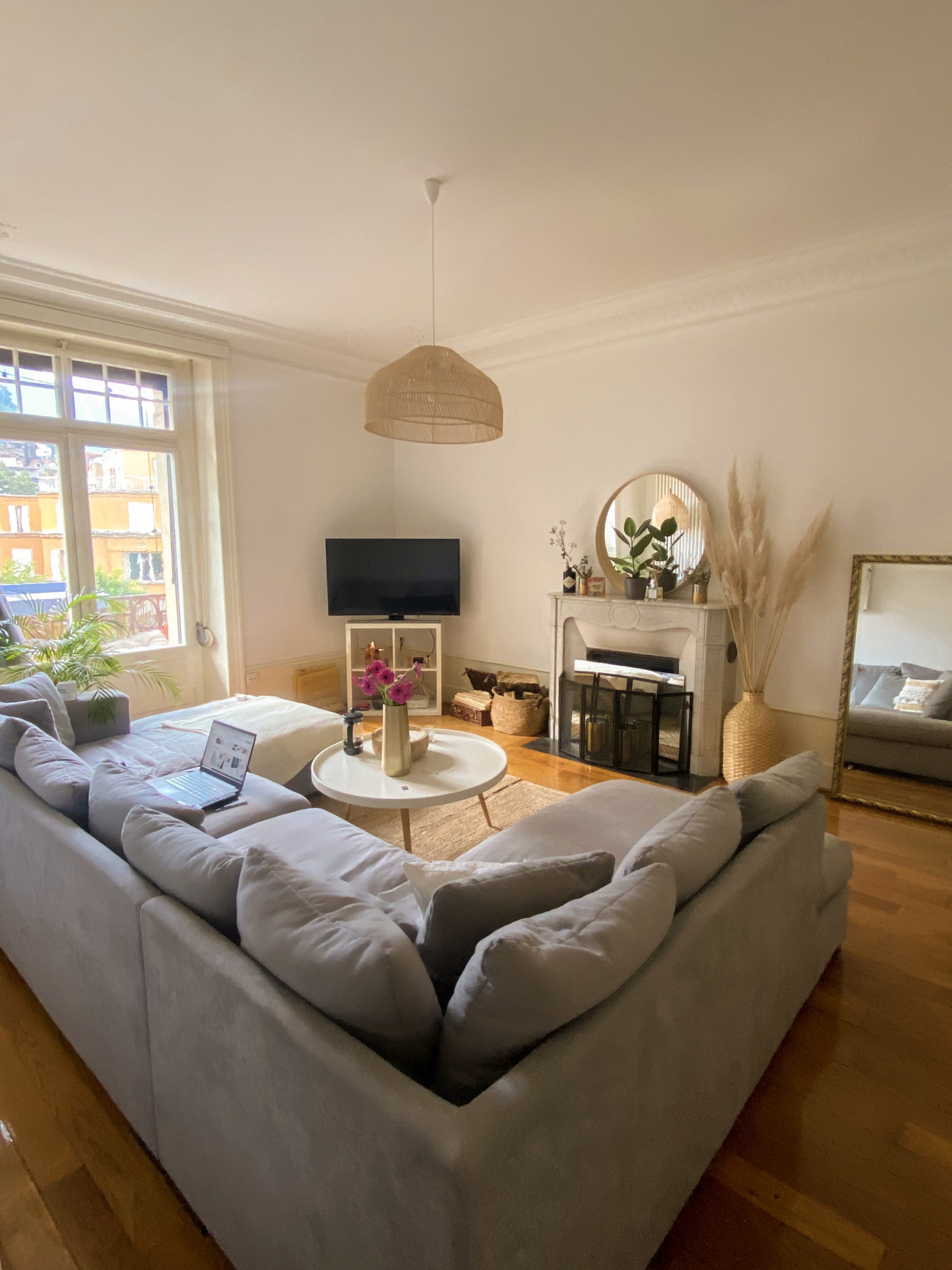 I fell in love with EVERYTHING on made.com but unfortunately, in spite of having enough space for a lot of the items, I had to select the key pieces to compliment the room.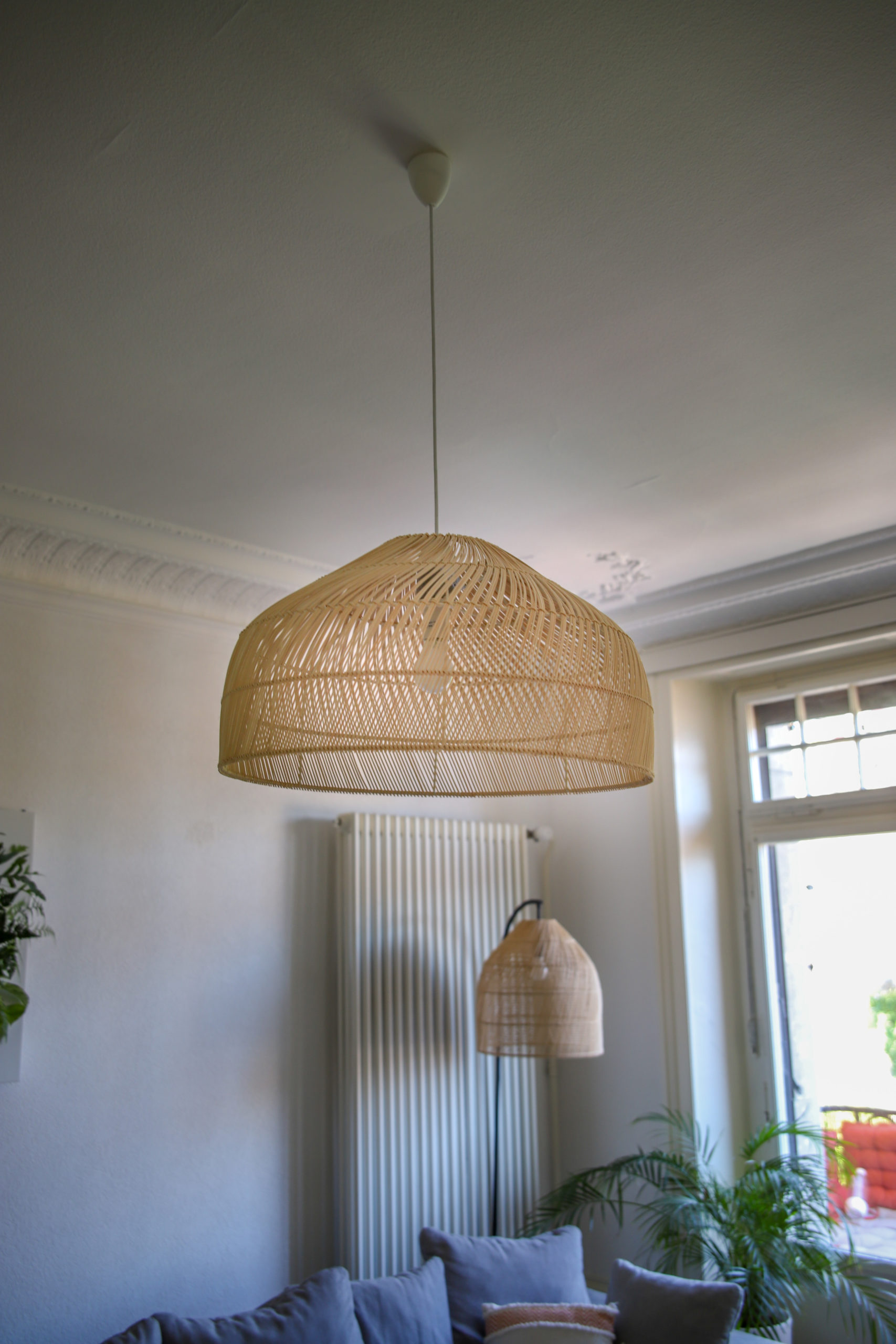 When I visited Aromwave in Lausanne a few months ago, I discovered this amazing scent which seriously fills the room without overpowering. I am such a fan of the products they have, they launched an e-shop.   
I went for the Nuit d'Orient diffuser which smells AMAZING !
Finishing Details
For those who know me, I am obsessed with flowers, plants, and just anything green! I was so pleased when Future Ecosystems offered to let me try this live painting! I am in love with how beautiful this looks on the wall. I went to the Garden Centre Brönnimann for all my plants.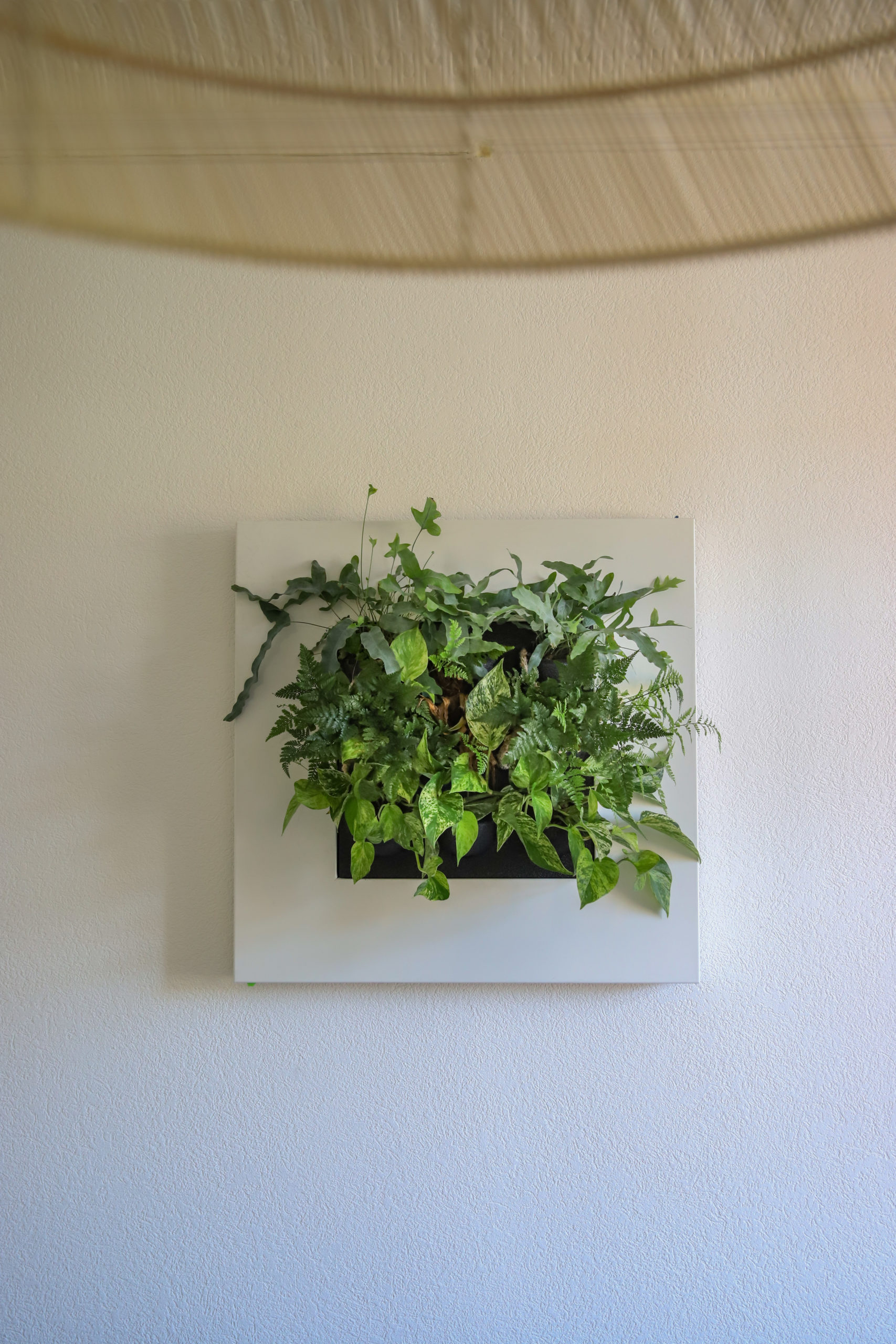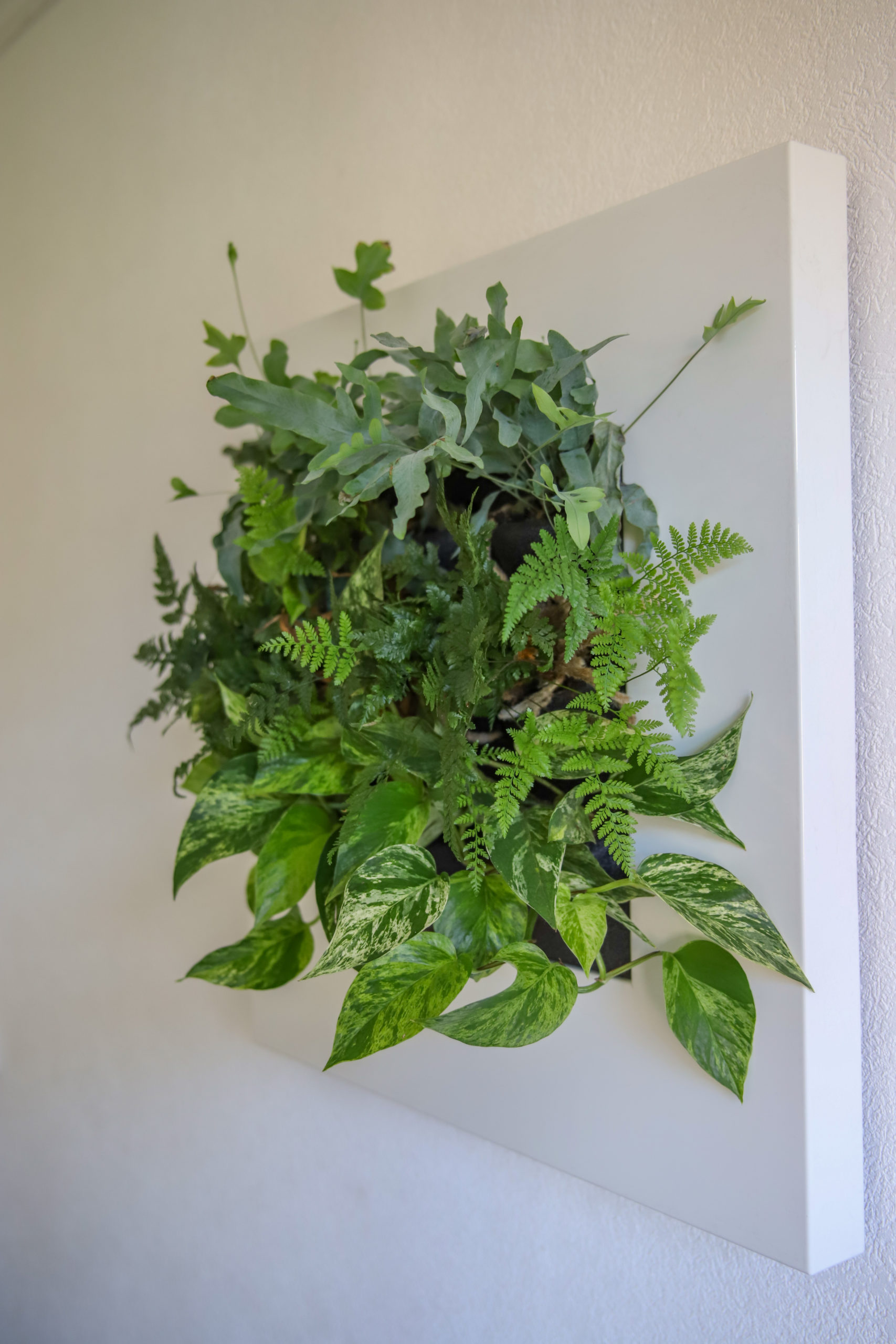 Made.com also had these gold triangles which I felt played in well with my metallic details and I managed to also fit two little succulents. I love these and I will probably get more for other rooms.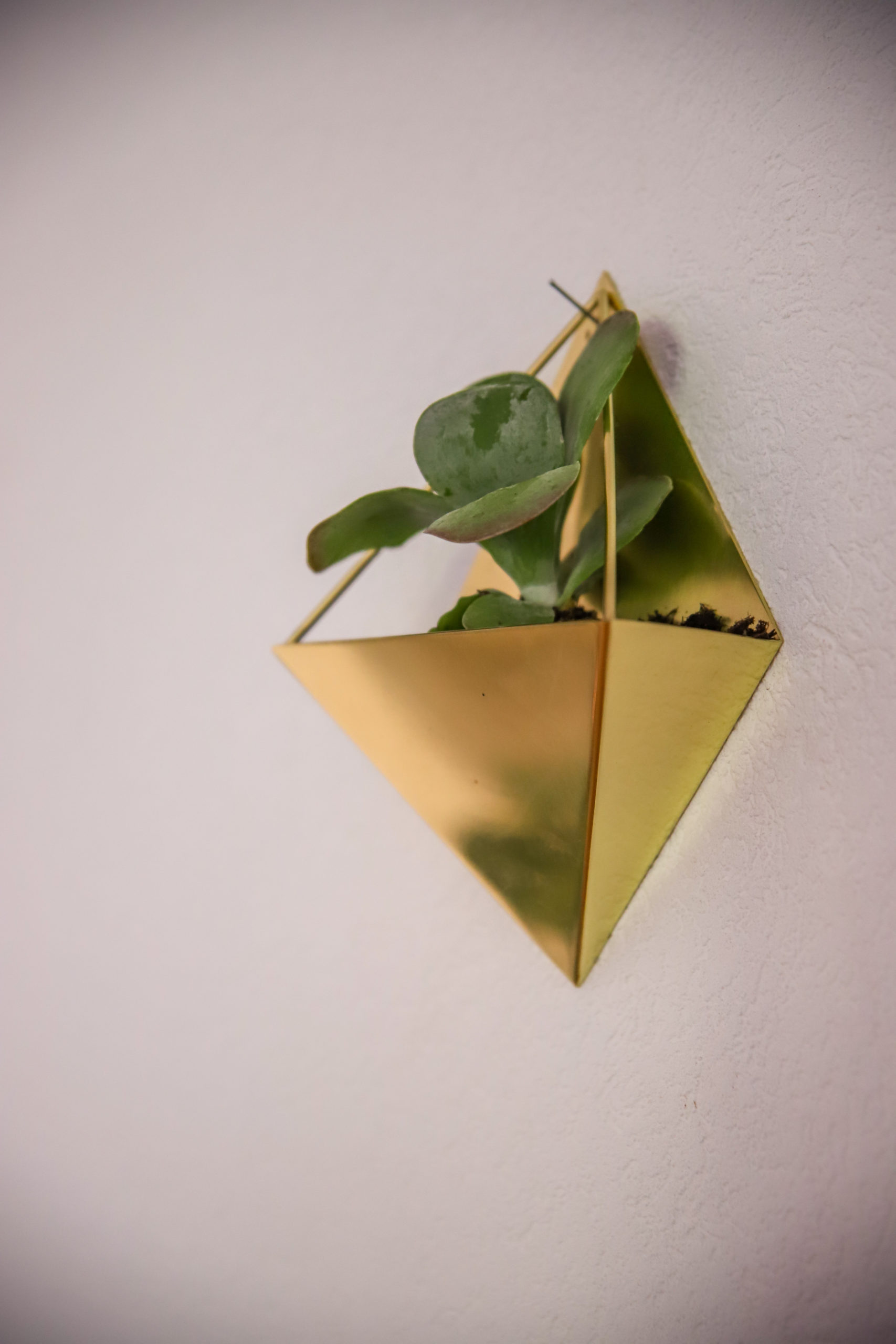 I also selected a vase from Made.com which fits into the colour scheme.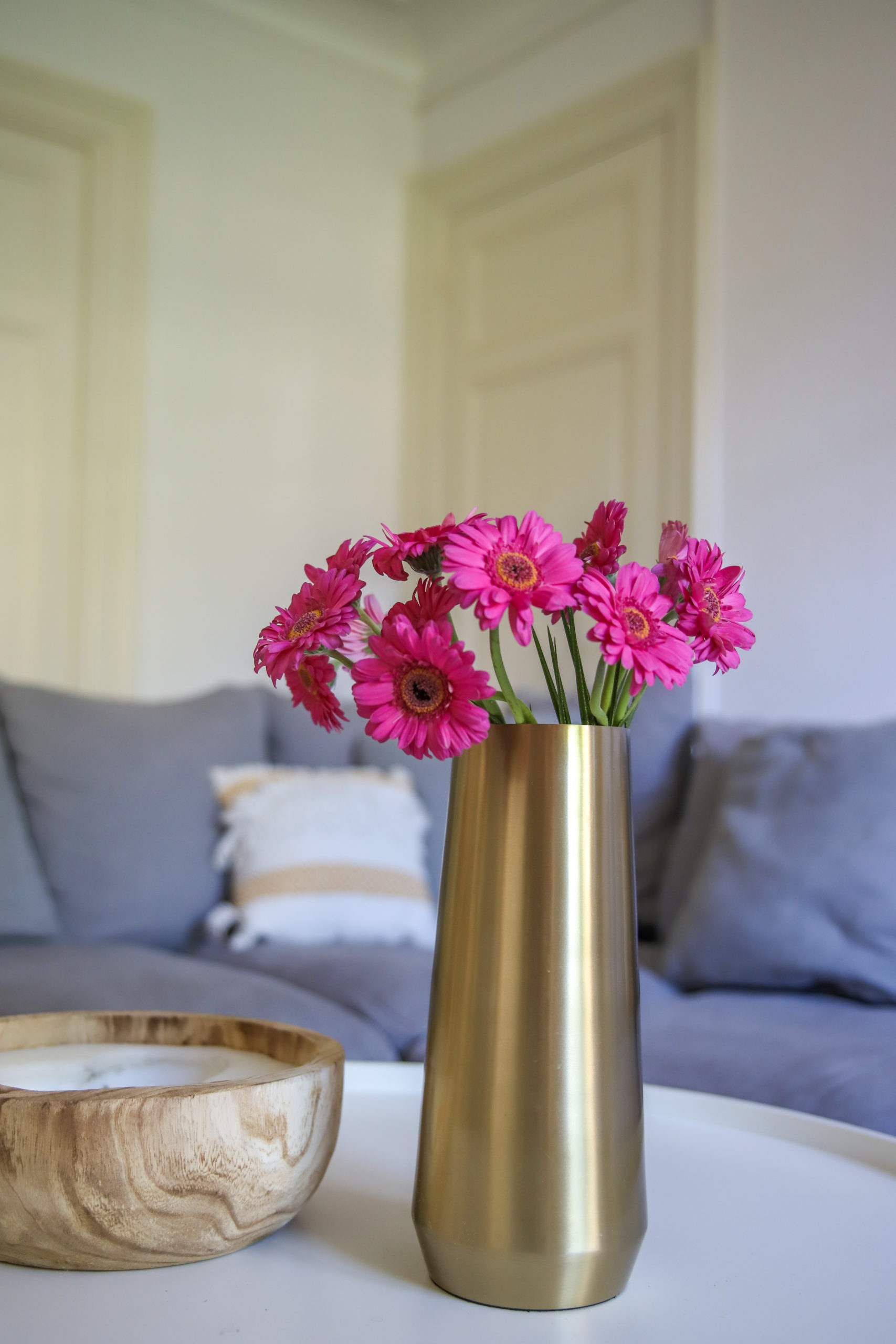 Here is a full list of all the Made.com items :
Java extragroßer Lampenschirm, Rattan CHF 109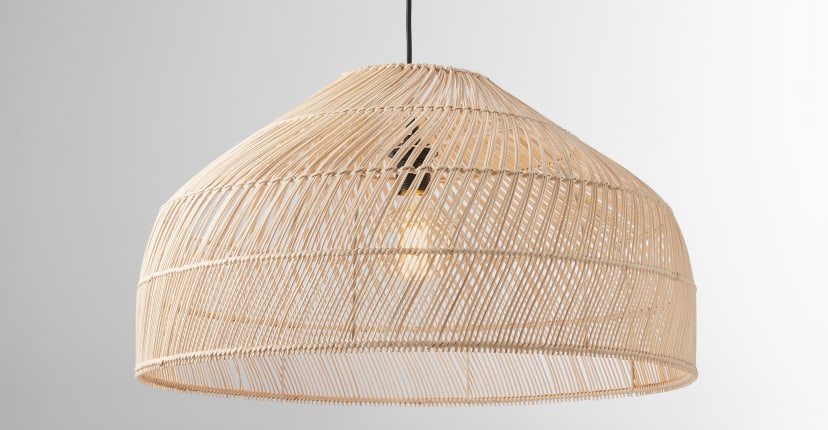 Java Overreach Stehlampe, Rattan CHF 239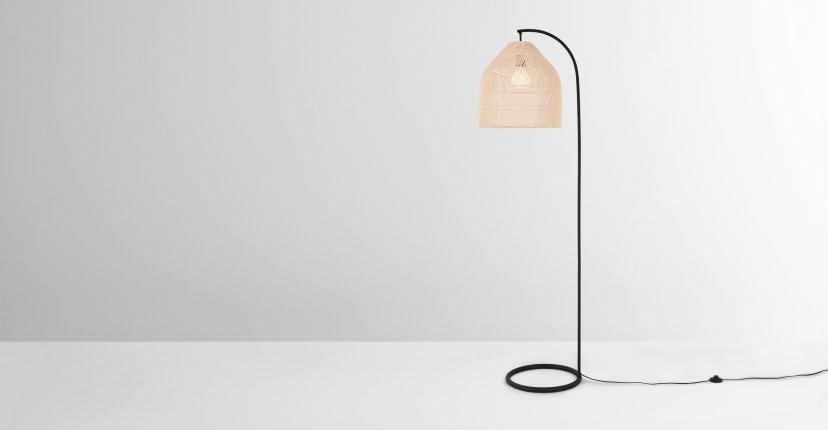 This isn't the exact same model but a similar idea:
4 x Corolla Übertöpfe, Blaugrün chf 65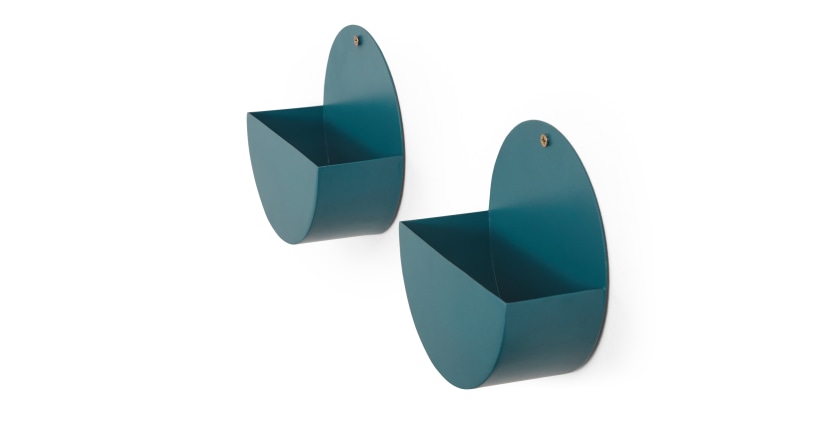 Beaumont Vase (31 cm), Messing CHF 69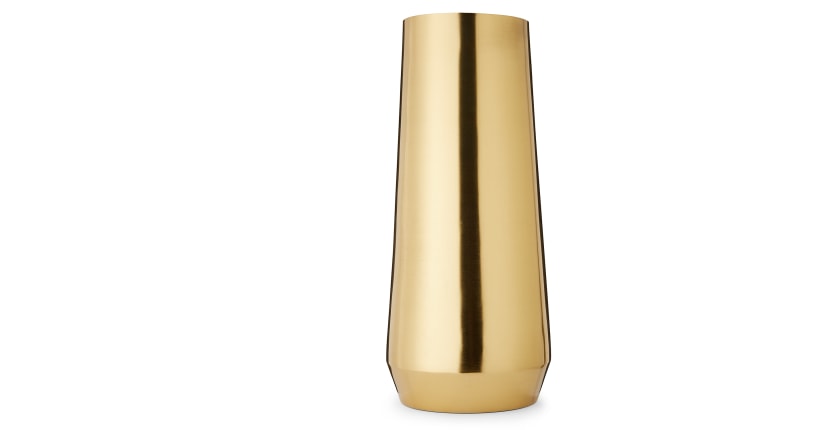 Full list of shops I used to furnish and decorate the living room:
Facebook Marketplace
Conforama – the sofa
Ikea – Mirrors, Bamboo vase, lanterns
Maxi Bazar – Rugs and cushions
Casa Home – Table
Maison du Monde – candles and candle holders