It's backkkkkk ! The W Verbier's Haute Cuisine 4.0 is on from 3-6 April 2019 and it is better than ever ! The event reunites 10 amazing Chefs, 16 Michelin stars, 12 events over 4 days… Check out my experience of day 1 of this fabulous gastronomical programme.
Haute Cuisine Event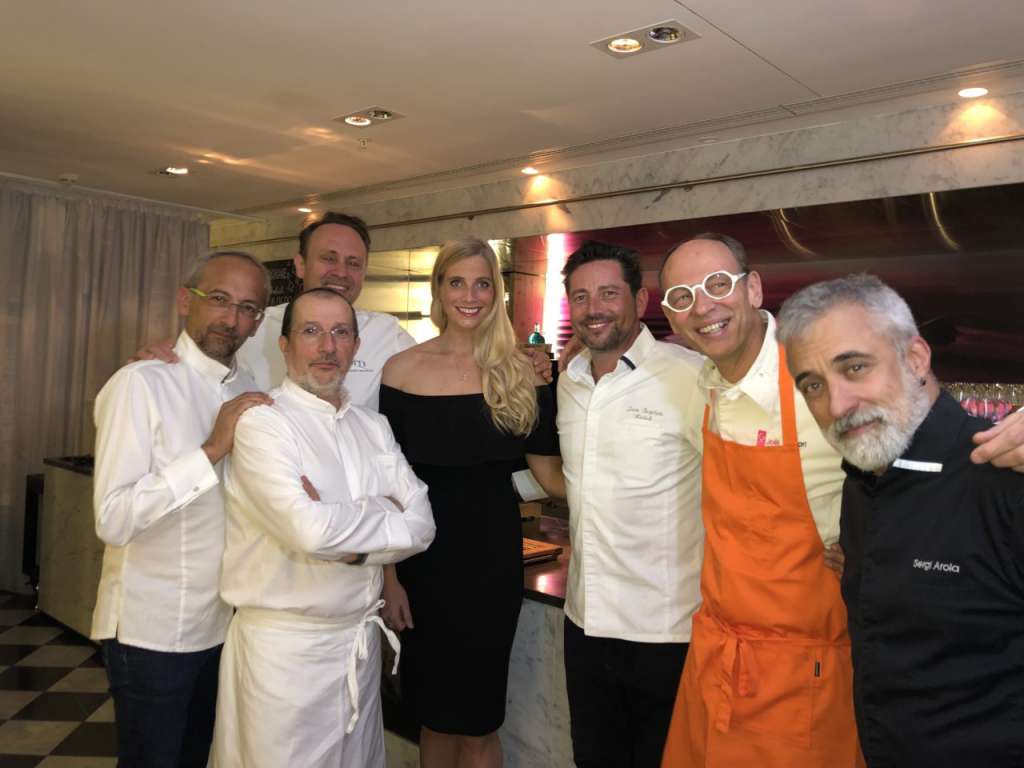 Every year, W Verbier, over 4 days, transforms itself into a gastronomical hotspot reuniting food, fashion, design and music.
You can enjoy cooking classes with these top chefs, fabulous themed dinners, artists sharing their talents through art or music and that is just the beginning.
The atmosphere surrounding this event is electric and you somehow just become mesmerised by the talent and creativity behind every event. You live and feel the passion that these chefs have and it is unlike any other gastronomic experience I have ever attended.

Haute Cuisine 4.0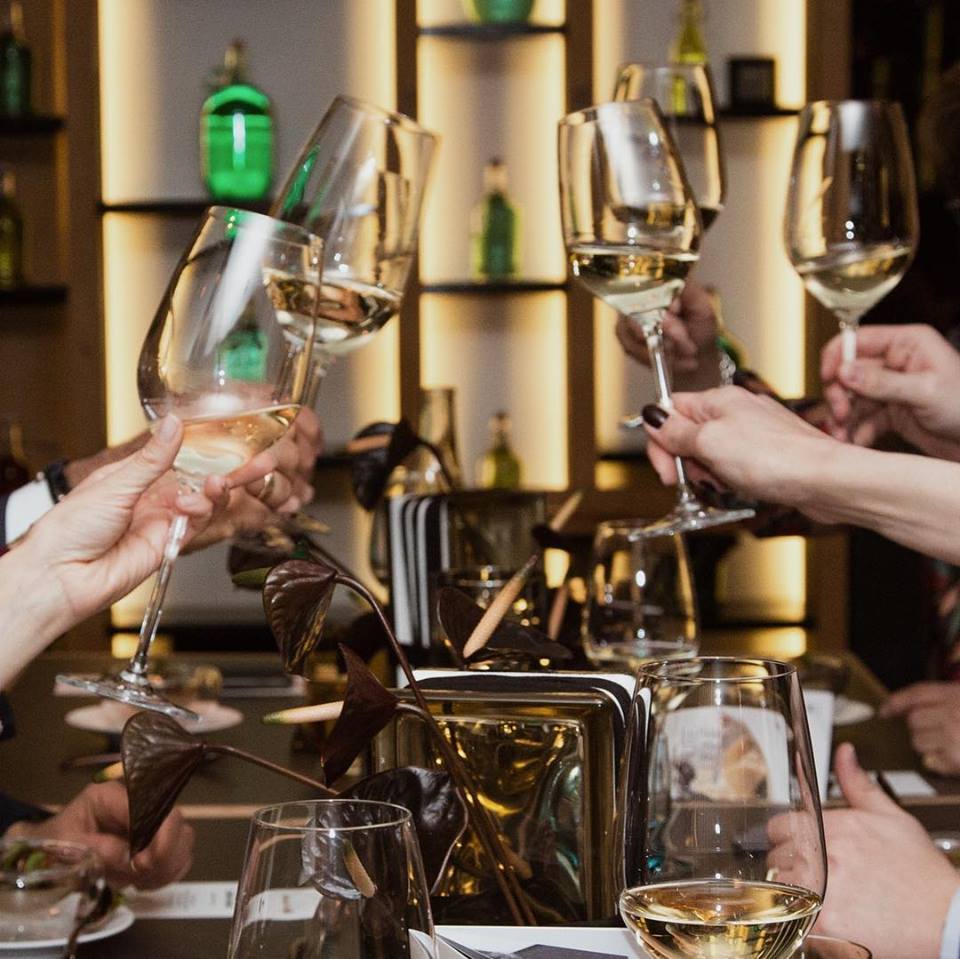 This year's edition is gathering 10 of the industry's best names in the famous Winter wonderland, for a very unique experience. Sergi Arola, Chef and Culinary Director at W Verbier, welcomes celebrity chefs including Michel Roth, Jacques Pourcel, Alain Caron, Thierry Drapeau, Patrick Jeffroy, Michel Portos, Yves Mattagne, Joël Césari and Jean-Baptiste Natali.
Every morning, two chefs hold interactive cooking classes sharing their techniques and secrets, followed by an exclusive lunch with them. During the 4 days, a series of curated evenings captivates guests with artistic demonstrations, fashion shows, live music performances and spectacular cuisine.
Day 1 – Design Night
I was delighted to be invited to attend the first event of the week this year. The theme behind the launch night dinner was " Design. "
We welcomed a local and very talented artist Issam Rezgui also know as Jasm_1 who throughout the dinner, painted on the windows of the restaurant. It was really beautiful watching him at work and the end result was really quite wonderful.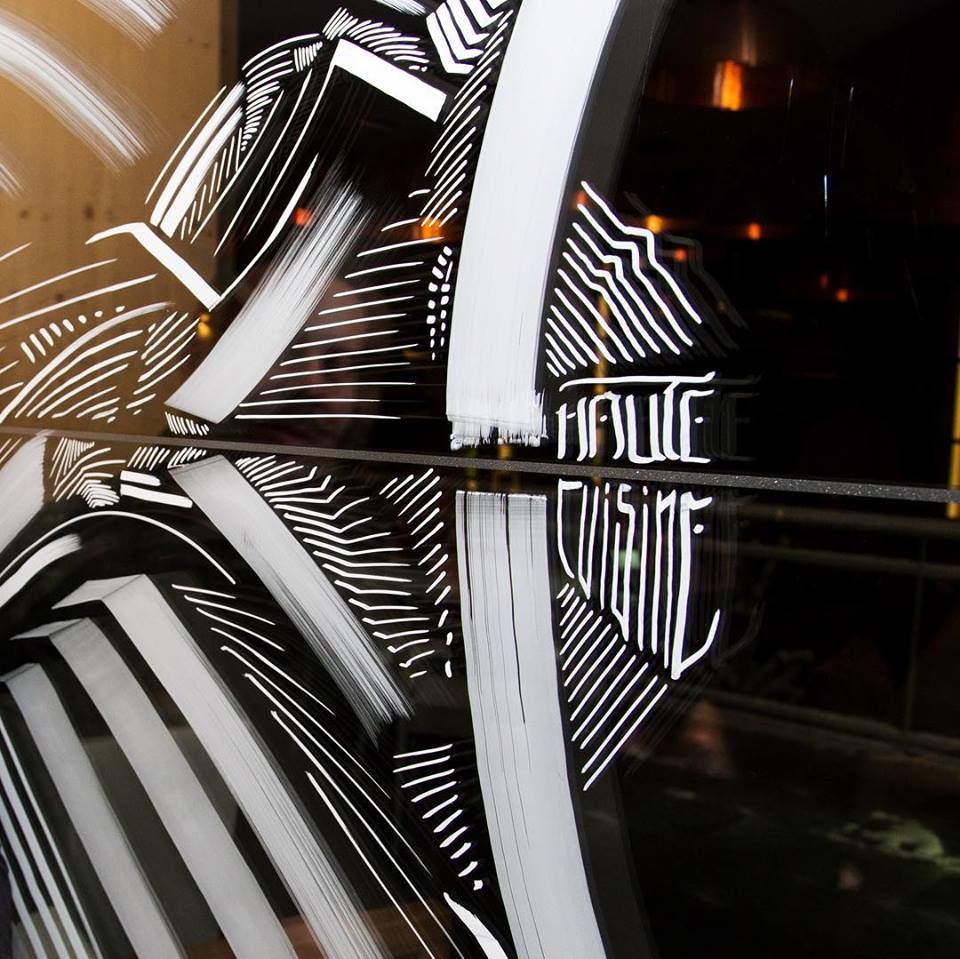 The dinner in itself was really fantastic. I don't just mean the quality of the food, I am talking about the event as a whole. The people who attended, the service, the chefs interaction with us, the presentation of the food and the wines. Everything down to the last drop really made the evening magical.
The Menu – Design
The menu for the evening was a reverse five-course dinner featuring various geometric structured and deconstructed dishes.
We started off with a piece of art, created by chef Thierry Drapeau. I really loved the beauty in the presentation of this dish and it definitely resembled more a dessert rather than a starter which was the aim of the game! I particularly enjoyed the textures in the smokiness of the sea bream combined with the tomato religieuse.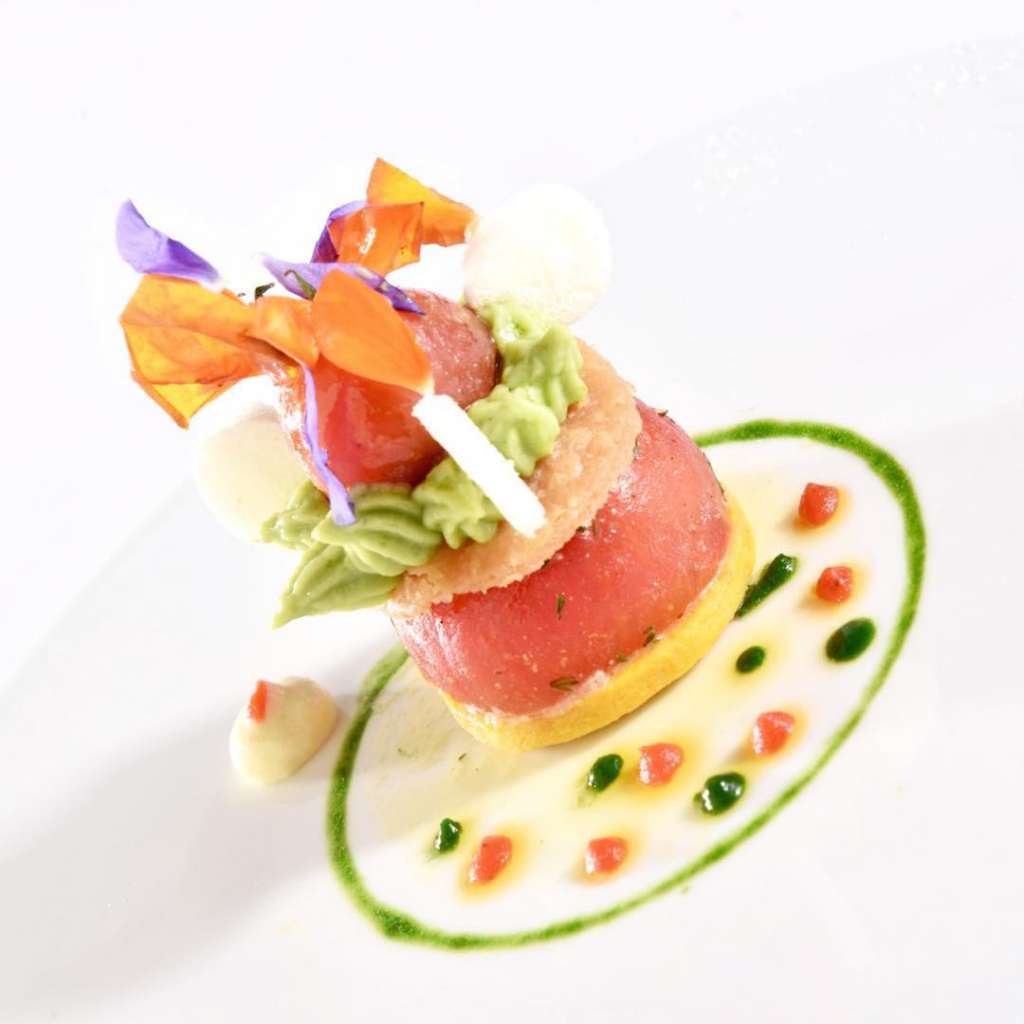 Our second dish, I must admit, on paper wasn't really selling it to me. However, after the first spoonful, I think this might have been his way of tricking us. The intensity in the flavours of Chef Michel Portos dish, literally made me go "WOW." I definitely did not imagine enjoying a mushroom panna cotta to the extent in which I did. He said that this would be our favourite dish of the night and well I think he was right, at least in my case… I would have happily have had seconds and that isn't something I would often say.
The course to follow was "Lobster in an Aquarium" by Chef Joël Césari. It arrived with a little crisped topping which actually gave me the impression that it was a bit of coral. The cooking of the lobster was exceptional ! I don't think I had ever eaten lobster as good as that. It was just such a shame that we could not see more of the lobster as it was covered in a delicious velvety sauce.
Chef Alain Caron then presented his dish and honestly, he was hilarious. He had the entire room laughing. He is a natural entertainer as well as creative chef. It was very interesting to see how he disguised a pigeon tart to ressemble an apple tart with a caramel sauce. It really was a trick to the eyes !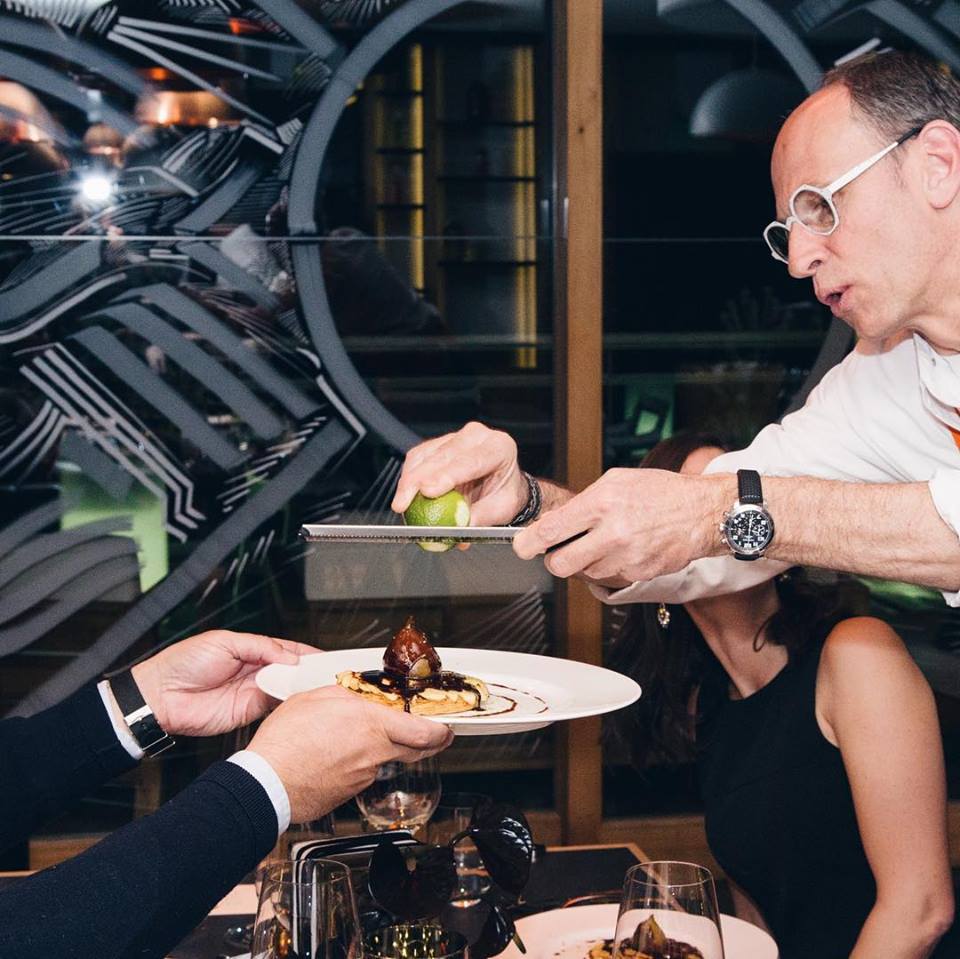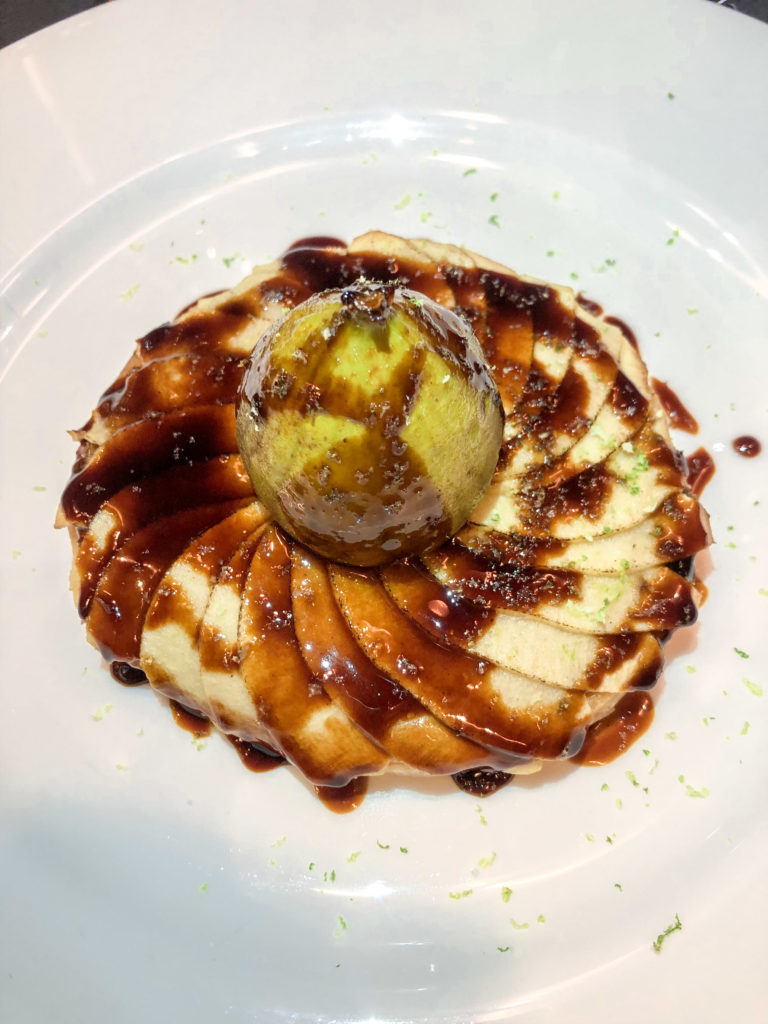 How to end an evening on a high? Well with Chef Jean-Baptiste Natali doing a bit of live cooking using liquid nitrogen of course ! He made what he referred to as a "Dynamic Pina Colada" he created this pineapple ice cream and meringue using the nitrogen. Meringue in nitrogen was something I had never seen before.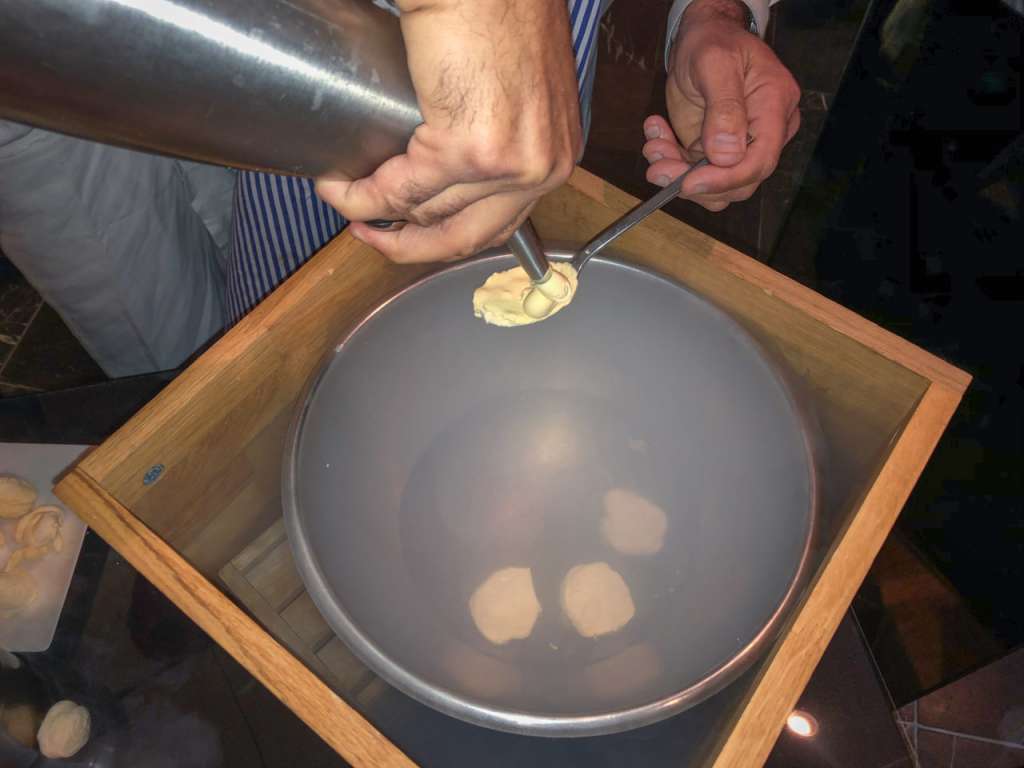 The Full Haute Cuisine Programme
SPECIAL HAUTE CUISINE ACCOMMODATION OFFER "STAY IN STYLE"
– One double accommodation with breakfasts and two dinners during week days: 990 Chf per night.
– One double accommodation with breakfasts and two dinners on Friday or Saturday night:1200 Chf
For more information, contact: reservations.wverbier@whotels.com
Day 1 – Wednesday 3 April 2019
W Kitchen / Eat-Hola Tapas Bar
11:00 – 13:00 : cooking class with Alain Caron
11:00 – 13:00 : cooking class with Joel Cesari
19:00 – Design themed night
Day 2 – Thursday 4 April 2019
W Kitchen / Eat-Hola Tapas Bar 
11:00 – 13:00 : cooking class with Jacques Pourcel 
11:00 – 13:00 : cooking class with Jean Baptiste Natali 
19:00 – Cocktail themed night
Day 3 – Friday 05 April 2019
W Kitchen / Eat-Hola Tapas Bar
11:00 – 13:00 : cooking class with Michel Portos 
11:00 – 13:00 : cooking class with Thierry Drapeau 
19:00 – Fashion themed night
Day 4 – Saturday 06 April 2019
W Kitchen / Eat-Hola Tapas Bar 
11:00 – 13:00 : cooking class with Yves Mattagne 
11:00 – 13:00 : cooking class with Sergi Arola
19:00 – Closing night – music themed
Price cooking class : CHF 160.-/person
Dinners:
Days 1 + 2 + 3 : CHF 360.-/person (apéritif & wine included)
Day 4 : CHF 460.-/person (apéritif & wine included)
For more information on the W Verbier and its list of events please go to: