I am going to share my version of The Healthiest Salmon Poké Bowl below and I hope you enjoy it as much as I do. I recently discovered the deliciousness that is the Salmon Poké Bowl. My first experience was at Ona Poké in Zurich and I was like right, I need to try this at home. What I love about this dish is its versatility, you can use salmon, tuna, tofu, prawns, the base can be composed of basmati rice, sushi rice, black rice and then the toppings are endless ! Edamame, mango, pineapple, radish, cucumber, onions, avocado.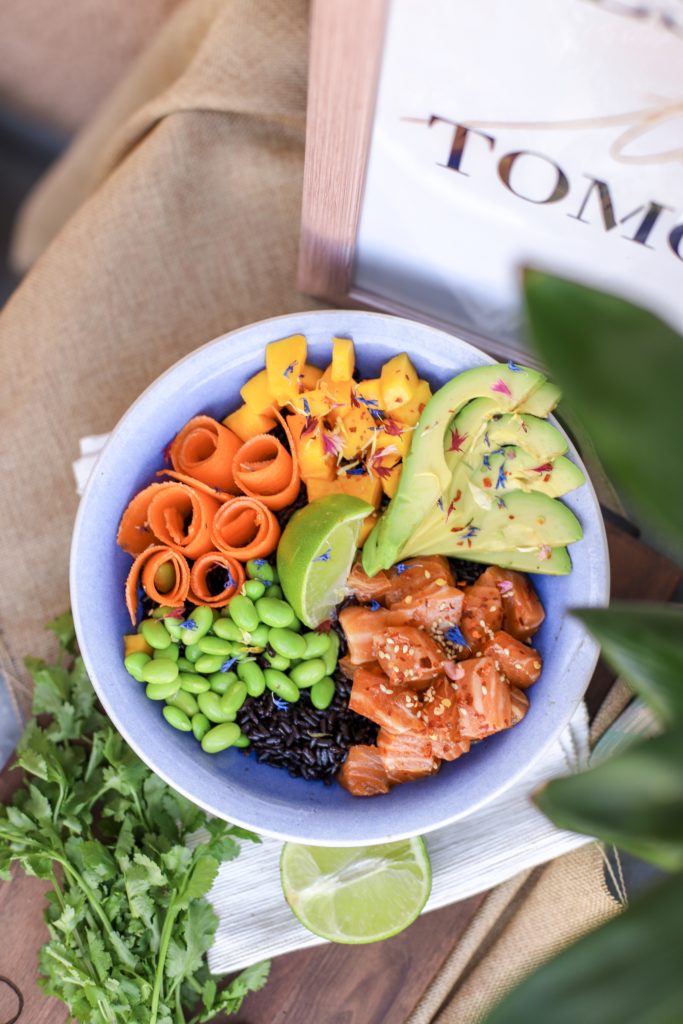 Recipe for the Salmon Poké Bowl:
Serves 2 people
Ingredients:
For the salmon:
220g salmon cut into even-sized cubes – (I used Froyas Supreme Salmon from the Coop)
1 tbsp low sodium soya sauce
1 tbsp rice vinegar
1 tbsp lime juice
1 tsp sesame oil
1/4 tsp red pepper flakes (optional, if you like some heat)
For the base:
200g uncooked black rice (well rinsed)
350 mls of water
The toppings:
1/2 mango chopped into cubes
200g of cooked edamame
1 avocado sliced thinly
1 carrot cut into ribbons with a vegetable peeler
Slice of lime to garnish
Sprinkle of sesame seeds
Take all the ingredients for the salmon and place them in a bowl.
Cover and place the bowl in the fridge for at least 2 hours.
Cook the rice in a rice cooker if you have one, or if not cook following the instructions on the back of the packet.
Once the rice is cooked, take a bowl and layer the based with the rice.
To one side, place the cubes of salmon and use the remaining marinade to cover the rest of the rice.
Add the garnishes across the rice, decorating it as you wish.
Finish the Salmon Poké Bowl with a sprinkle of sesame seeds and a slice of lime.
Enjoy ! x