Solamente 103 – All of the pleasure with none of the guilt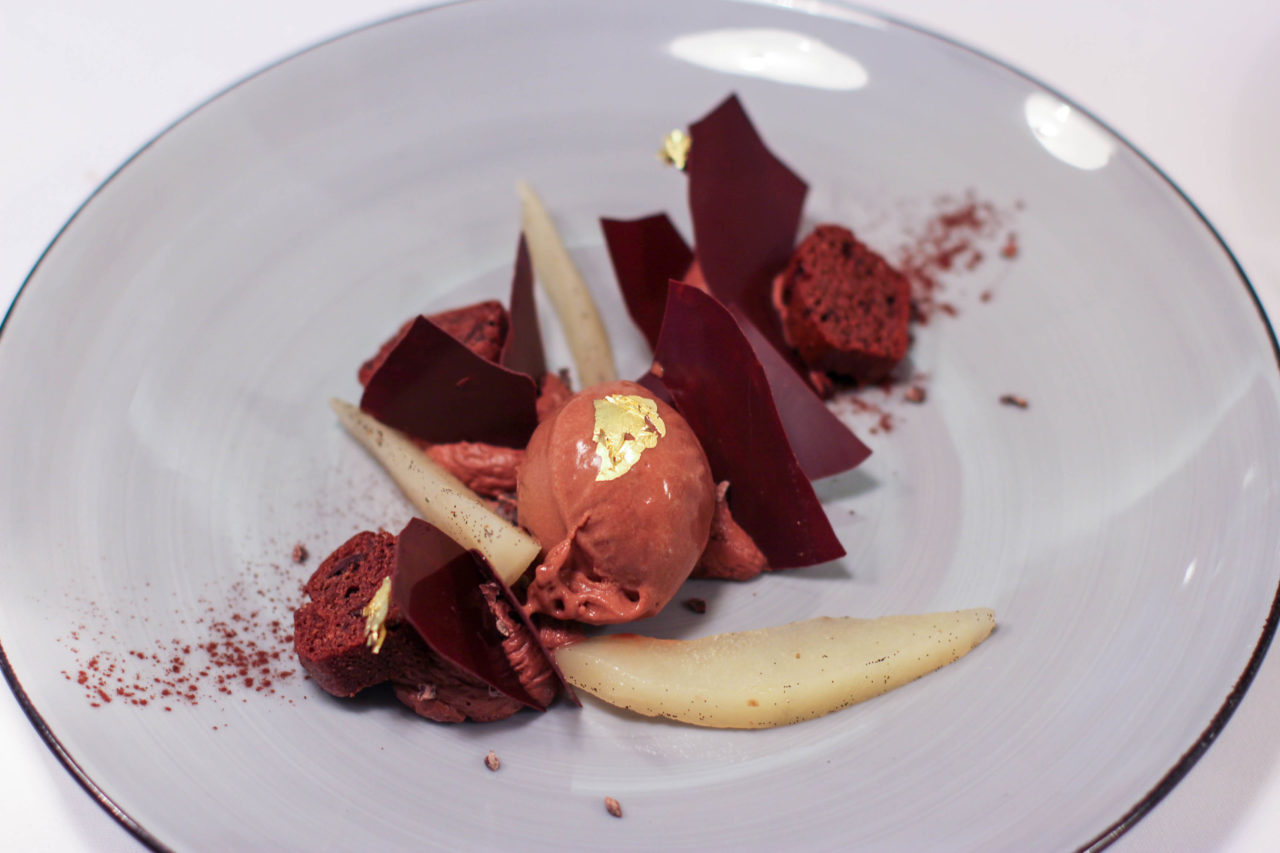 This Summer, the young talented pastry chef, Aurélien Houillon developed a fabulous creation for the Restaurant Gusto's menu at the Hôtel Métropole Geneva. This one of a kind dessert, is simply delicious and perfect for anyone who is vegan or with food intolerances, as it does not contain any gluten, lactose or animal-based products.
Chef Houillon said: "There is no excuse now not to take a dessert unless you do not enjoy eating chocolate."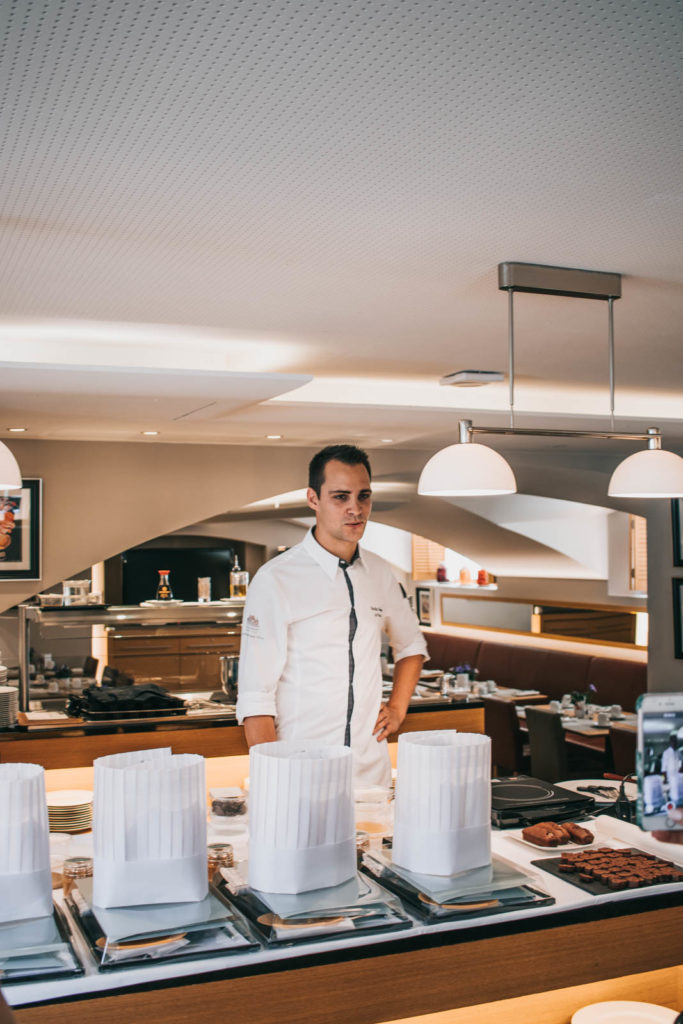 The Solamente 103 is made up of various chocolatey textures using 62% dark chocolate (and yes, the percentage is vital when making this dessert at home!) By using melted chocolate, water and a syphon, you can create a light textured mousse and therefore, bye bye to the butter and eggs.
The base is made from chestnut flour and cornflour with a little coconut oil, pureed apple and of course more chocolate. Whereas the chocolate sorbet is created using a local honey and some more of that delicious 62% dark chocolate.
Decorate it as you wish, Chef Houillon likes to use cacao nibs, gold leaf, poached pears and chocolate leaves. I definitely enjoyed learning how to make this "Indulgent" dessert.
The Workshop at Métropole Hotel, Geneva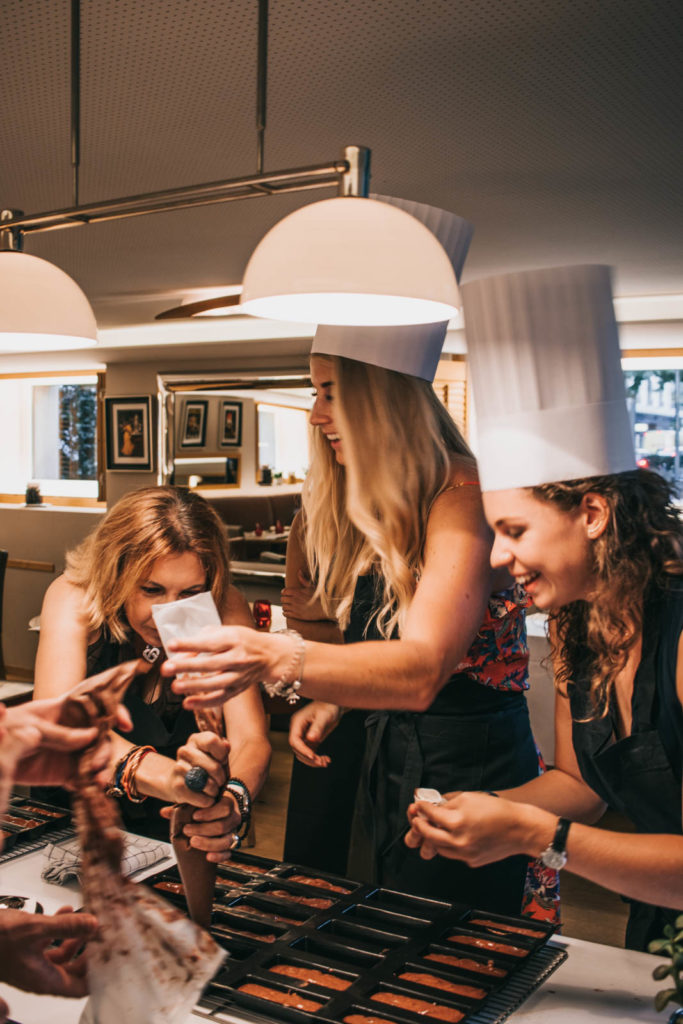 I had the best time during this workshop alongside my fellow bloggers. It was great to actually work with a professional Chef and learn how to make a restaurant-style dish.
We were only a handful and this made the cooking workshop very personal and a lot of fun. We were able to ask all the questions we needed, help each other out and learn a few new tricks.
The dessert itself is not actually that complicated to make but as with any dessert or pastry, everything has to be measured out precisely. Chef Houillon explained how modifying the chocolate percentage means having to alter the entire recipe as the ratios are very specific.
For anyone brave enough to attempt this 103 calorie dessert then here is the recipe:
The Recipe
For the chocolate base
300g of gluten-free flour (made up of chestnut flour, potato flour, almond flour, xanthan gum)
10g of baking powder
100g of brown sugar
400g of almond milk
200g of 62% dark chocolate
100g of 85% dark chocolate chips
Combine all the dry elements, the apple purée and the coconut oil. Then carefully add the milk, little by little, then the melted chocolate, followed by the chocolate chips.
Add the mix to a cake mould and bake at approximately 180 degrees for 12 minutes.
Cocoa Sorbet
300 g water
60 g sugar
30 g Honey
70 g of dark Chocolate 62%
Heat the water and honey together on a medium heat.
Add sugar and bring it to boil.
Pour the chocolate in two parts and mix
Let cool and switch to the ice cream maker.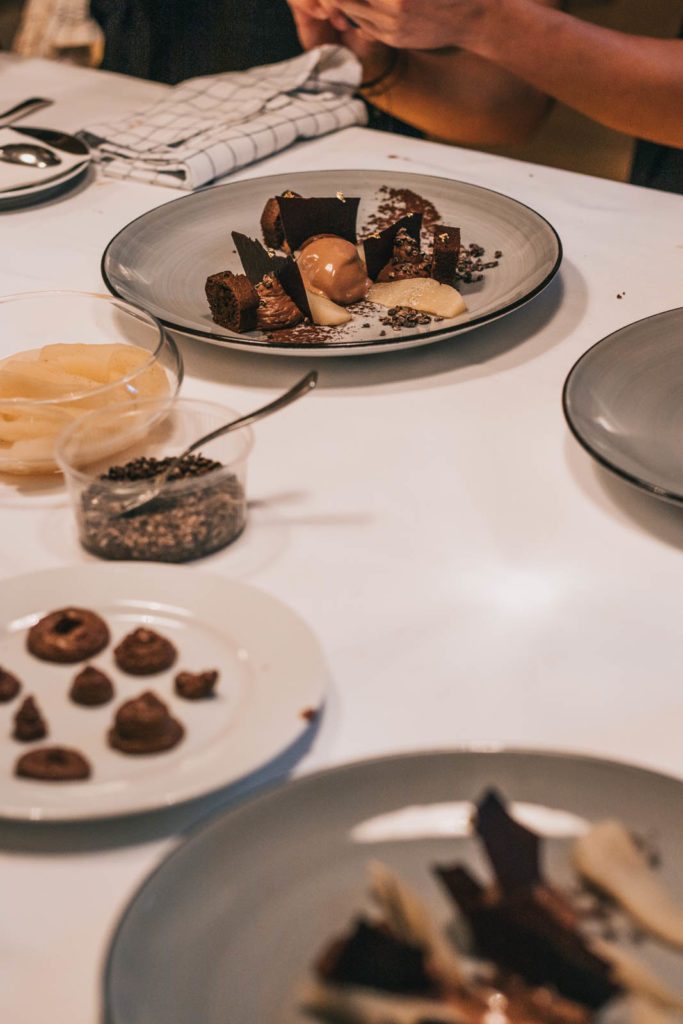 Chocolate mousse
600g water
400g Dark Chocolate 62%
1. Heat the water, pour over the chocolate to make a ganache.
2. Let it cool for 2 hours.
3. Add the mix to the syphon to create the mousse.
Add all the elements on a plate and decorate with 62% dark chocolate shards and cocoa nibs.
Enjoy !!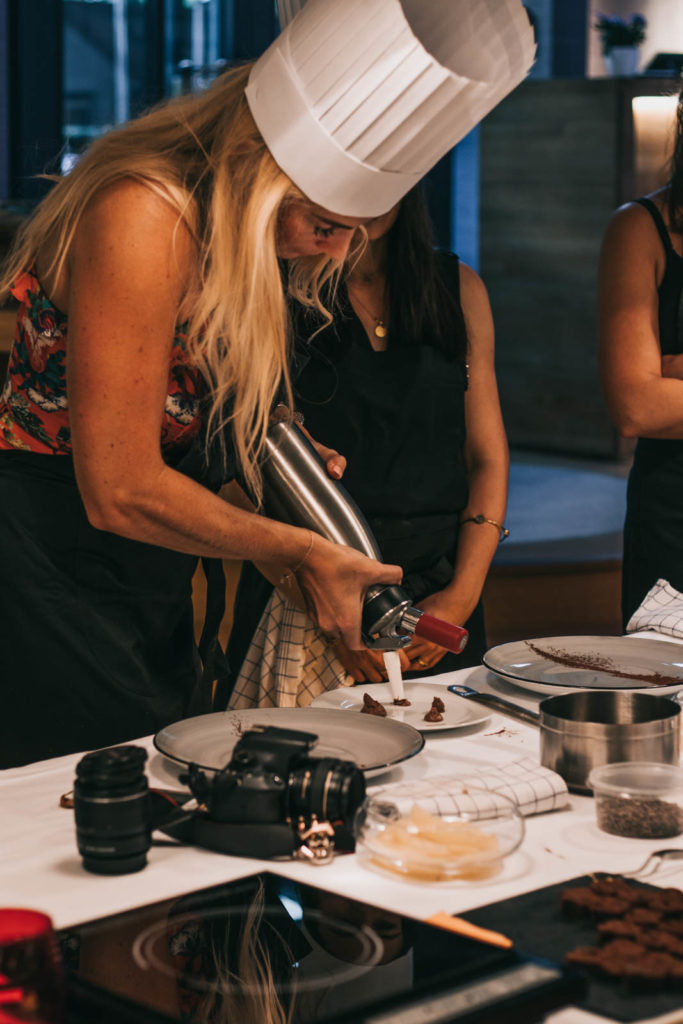 For more information please head over to: www.metropole.ch