Oliviers & Co was founded in 1996 in Provence, France. The idea behind this concept is to highlight the fact that olive oils can be worthy of being recognised as Grand Cru and this is how it all started. Ever since, the brand has developed worldwide all while maintaining the quality of their products.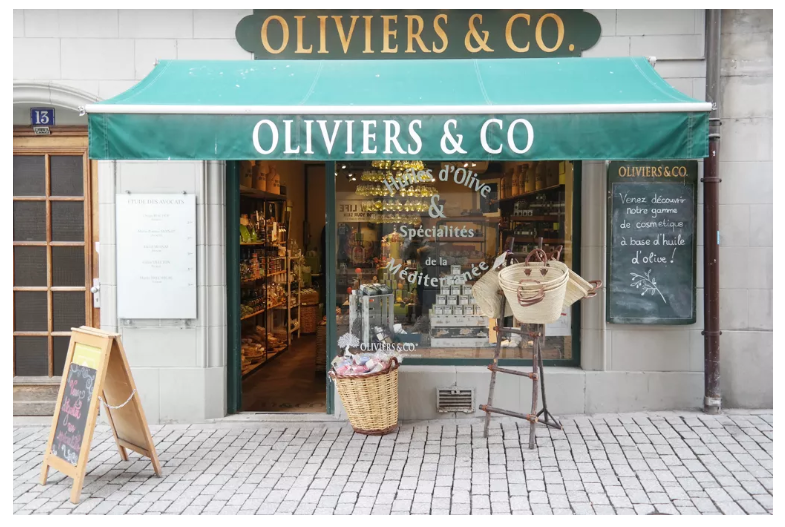 Oliviers & Co Lausanne, located in the Place de la Palud, Lausanne, draws your attention with its bright and Mediterranean exterior. The green branding and the olive trees, which fill the entrance, entices you to step inside to find out more.
And as soon as you step foot inside the shop, you are greeted by rows of wooden shelves filled with all types of olives oils and vinegars from all over Europe (Spain, Italy, Greece, France etc) whilst looking around at all these amazing glass bottles, out pops Virginie from behind the counter. Virginie is the store manager and the only way to describe her is as a warm ray of sunshine.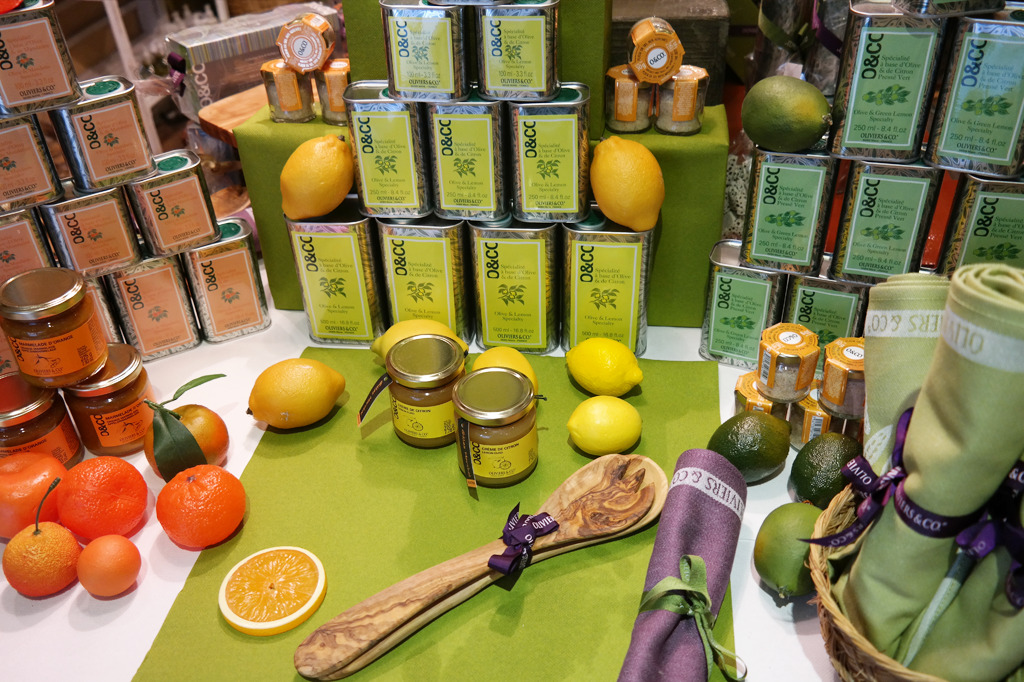 Virginie's enthusiasm is simply contagious and her knowledge of the products is next to none. Her background has taken her across the world as she used to work in hospitality and she is not afraid to share her passion of food with you. She is attentive to every single client and you leave feeling enlightened and confident about how to use the selection of products you have just purchased.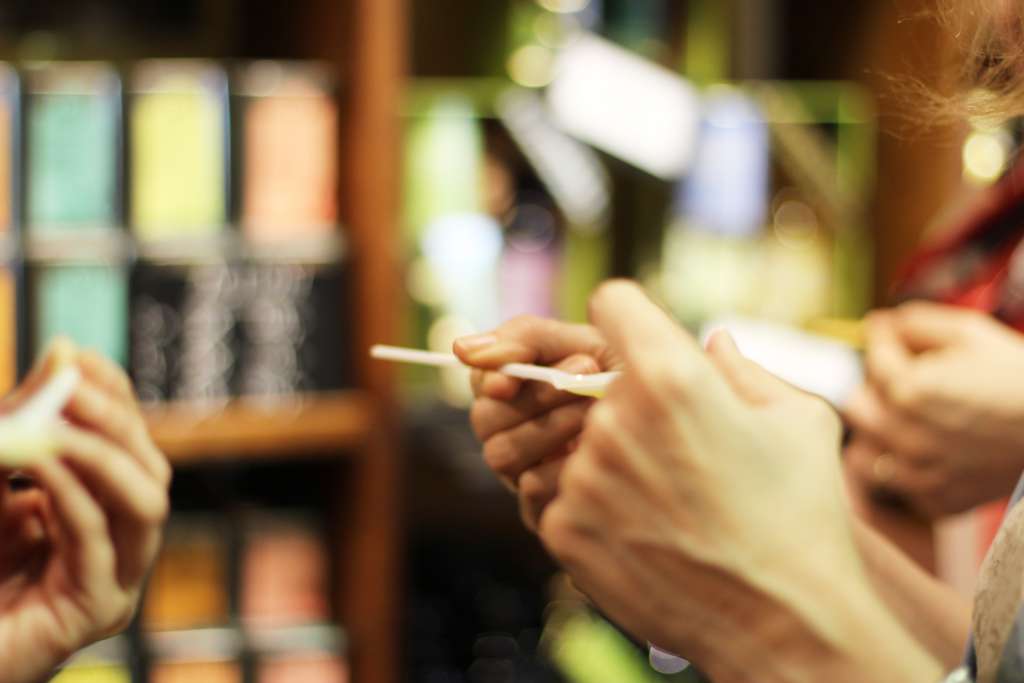 I had no idea that olive oils could be floral, grassy or even fruity, did you?
I must admit that the flavoured oils fascinated me and my favourite ones are; The Basil Olive Oil, Olive & Bergamot Olive Oil and Olive & Fresh lemon.
In the space of a few hours, I travelled across Europe without having to leave Oliviers & Co. I discovered all about the history of this brand and I left with a delicious bag of goodies in order to prepare a little Summer recipe for you all.
LAUSANNE
Oliviers&Co
Place de la Palud, 13
1003 Lausanne
+ 41 21 311 38 80
Opening Hours:
Monday 12h – 18h30
Tuesday 9h30 – 18h30
Wednesday 9h – 18h30
Thursday 9h30 – 18h30
Friday 9h30 – 18h30
Saturday 9h -18h
The Recipe
Now that the long Summer days are finally here, we are looking to cool down as much as possible. I personally LOVE Mediterranean cuisine this time of year and I go to Spain almost every single July. This is why I have chosen to make a gazpacho! It is tasty, refreshing and so easy to make. With quality ingredients and a little twist from Oliviers & Co, you will also fall in love with my version of this cold Spanish soup. Check out my video below.
Serves 2
Ingredients:
5 large tomatoes ( I choose Monte Rosa for their flavour) roughly chopped

1 small red onion roughly chopped

1/3 of a large cucumber, peeled and seeded and chopped

1 medium red bell pepper, cored and seededand chopped

1 large garlic clove, peeled

3 tbsp of Oliviers & Co Basil Olive Oil

2 tablespoons of red wine vinegar

1 tsp of Olivers & Co Salt & Herb Mix

Black pepper
Optional for the topping:
Tomatoes, pepper and some cucumber chopped into little cubes
Basil leaves (2-3 per portion)
Place the tomatoes, onion, peppers, cucumber, garlic clove, olive oil and red wine vinegar in a blender or a Nutribullet.
Next, blitz all the ingredients until it is smooth (if you find the consistency a little thick, add a splash of water.)
Season with salt and pepper.
Place in the fridge for a few hours or overnight until it is chilled.
Pour the gazpacho in the bowls and garnish with the toppings.
Enjoy!