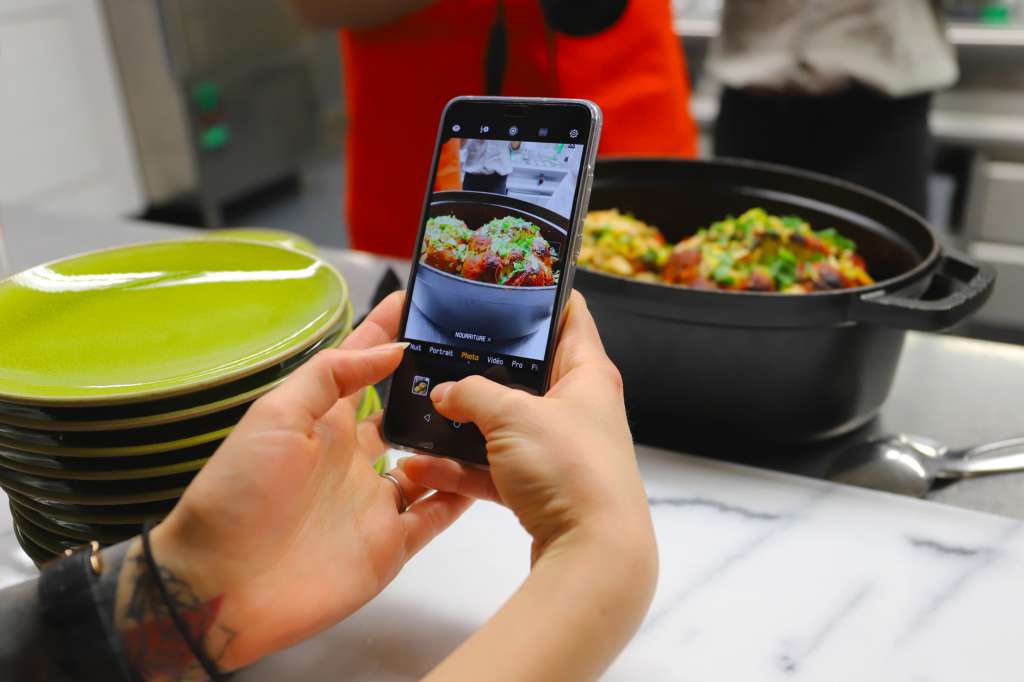 Recently, I was invited to the Ecole Hôtelière of Lausanne (EHL) to learn about various vegan recipes I could make this Christmas. I know what some of you may be thinking… Christmas is traditionally not about plant-based recipes.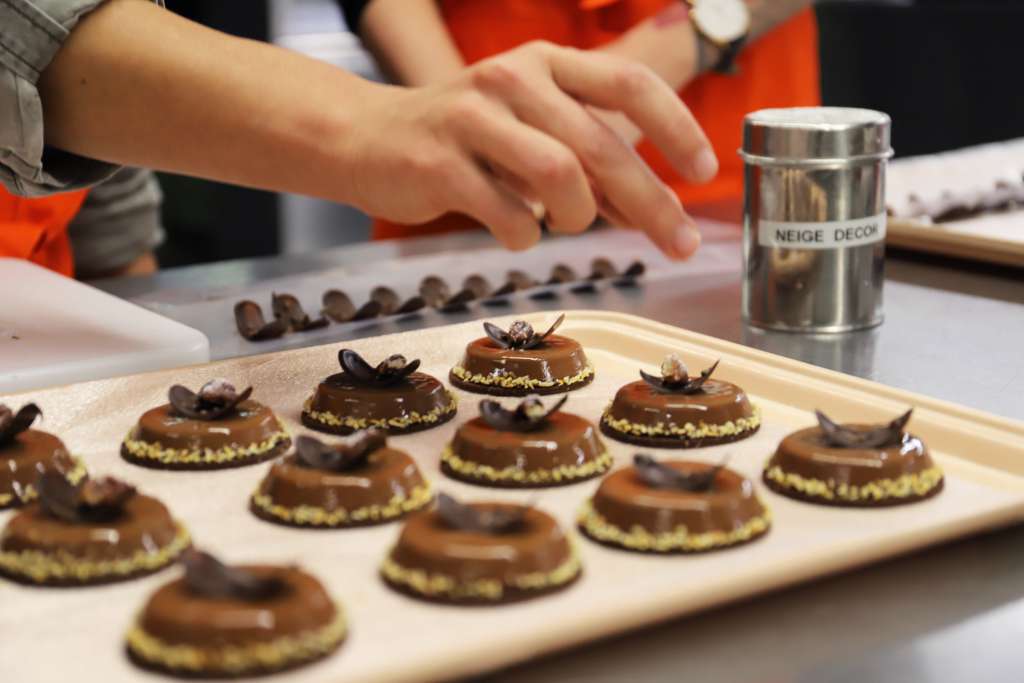 Most people know that I do not shy away from vegan recipes but I agree with you when I say that for me Christmas is really all about the big turkey and all its trimmings, oysters, smoked salmon. Basically, everything which is the opposite of being plant-based. However, it is important to keep an open mind, especially when it comes to food!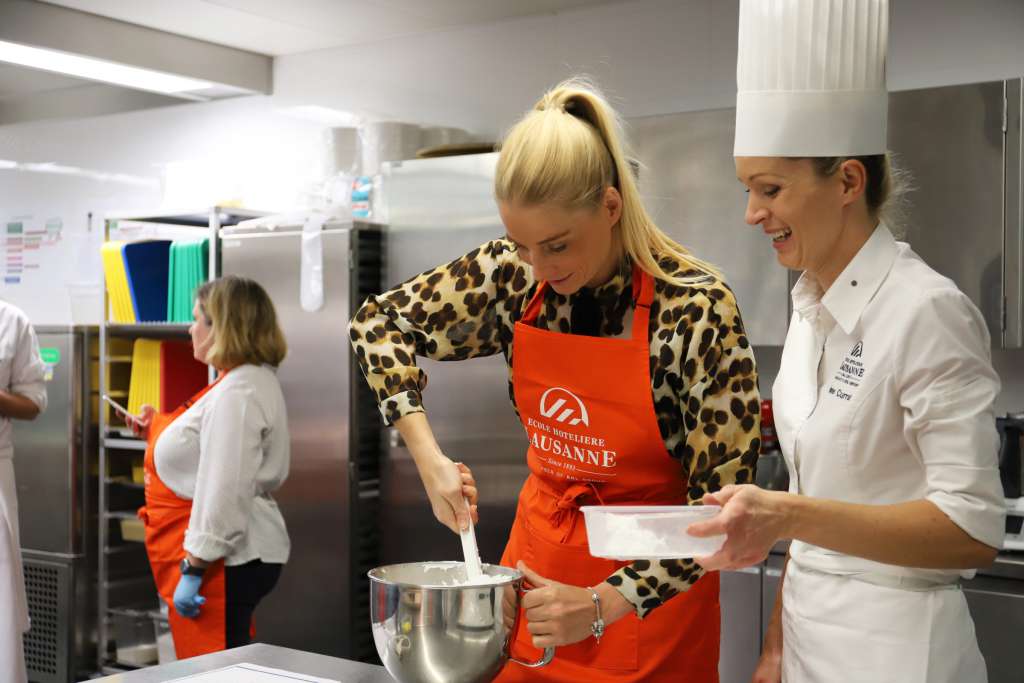 The Vegan Experience
I found the whole evening really interesting and I learnt a great deal from EHL's talented chefs and how they have had to adapt over the years to the student's food demands. Chef, Ehrard Busch has gone vegetarian now for 2 years and really loves it.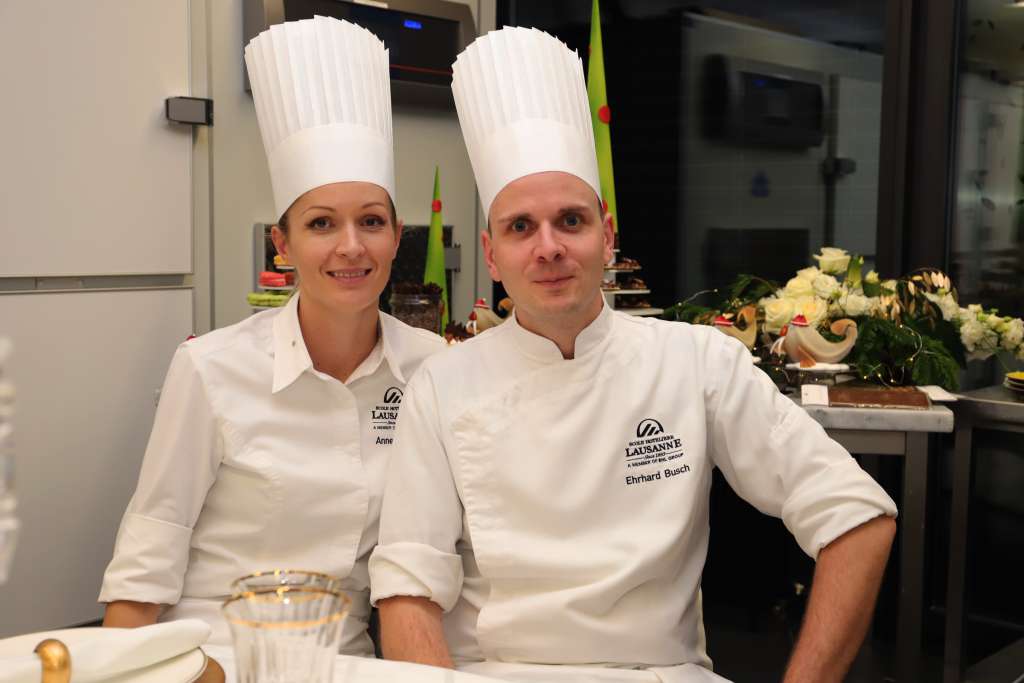 Chef Anne Currat is very talented when it comes to pastries and desserts, her little pear and cinnamon tart is simply TO DIE FOR !!!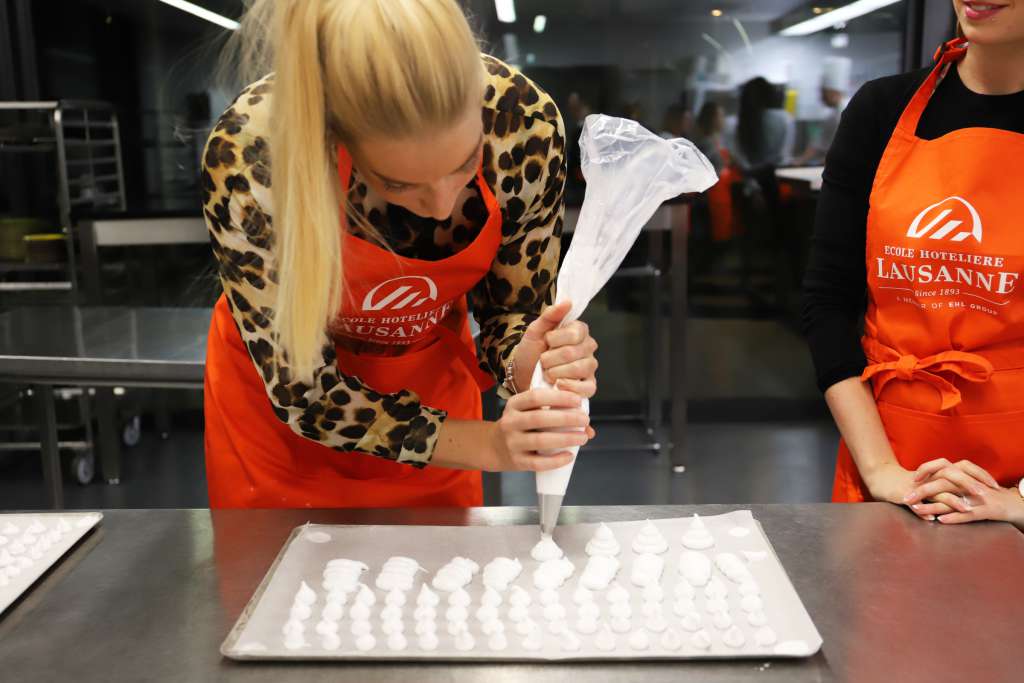 I am going to share with you my favourite recipes from the workshop:
Fried Brussels Sprouts with a smoked pepper and spiced aïoli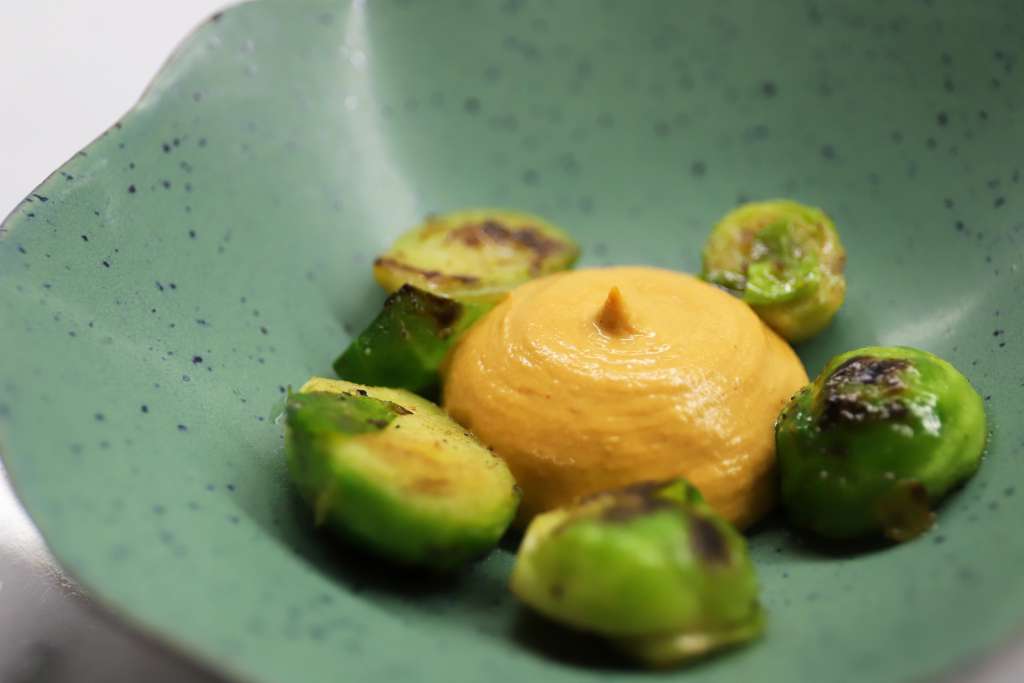 Ingredients

500 g Brussels sprouts
30 ml olive oil
sea ​​salt
cumin
Aioli
250 g organic hummus
10g harissa
1 lemon (juice + zest)
10 g smoked pepper powder
15 g agave syrup
10 ml Jerez vinegar
15 g coriander
salt
garlic powder
Method
1. Remove the first layer of leaves from brussels sprouts, then cut them in half.
2. Mix the sprouts in a large bowl and season with olive oil, salt and cumin.
3. Heat a frying pan and put the sprouts face down and cover them with a lid.
4. Once they are beginning to take on a beautiful brown colour, stir until they are cooked.
5. For the Aioli, mix all the ingredients and season to taste.
Stuffed butternut squash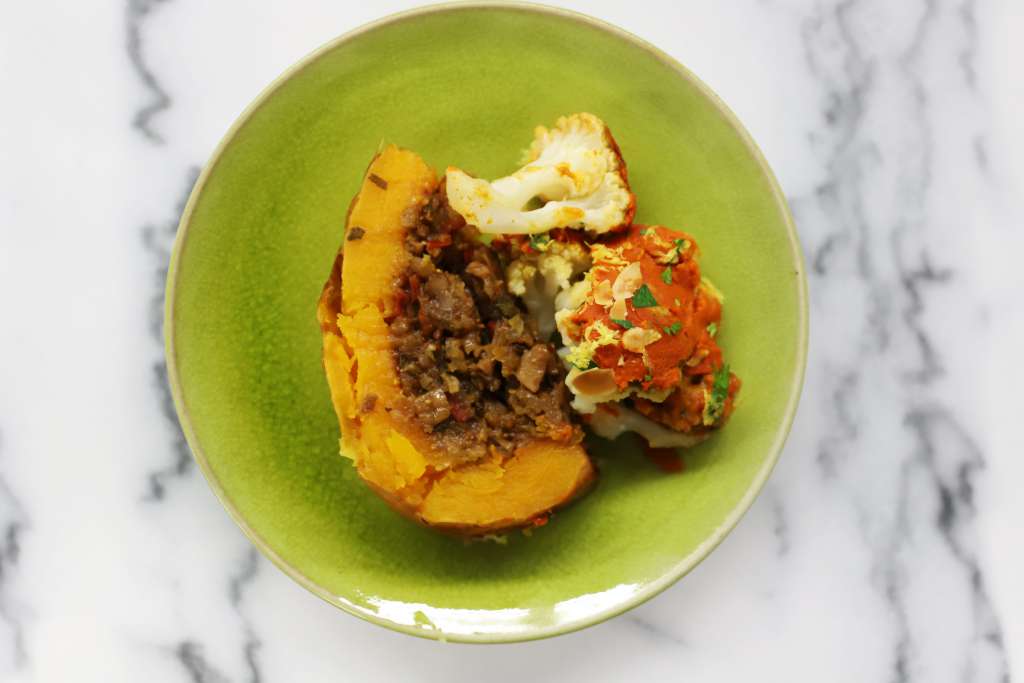 Ingredients
1.2 kg butternut squash
20 ml olive oil
60 g red onion
1 clove of garlic
20 g sage
50 g dried tomatoes
70 g chestnuts
70 g basmati rice
70 g dried figs
150 ml red wine
salt pepper
Method
1. Cut the squash in half and remove the flesh and the seeds in the center. Season each half with salt and pepper.
2. Chop the flesh and cook it in a pan with olive oil.
3. Add the onion and garlic cut into small cubes and rice. Cut tomatoes, chestnuts and figs into dice and add them to the mixture.
4. Deglaze everything with the red wine and add the chopped sage. Let everything reduce in the red wine and cook for about 10 minutes, then Season with salt and pepper.
5. Put the mixture back in the squash and close both sides with a double layer of aluminum foil. Cook at 180 ° C for 1.5 – 2 hours until the squash is tender.
6. Remove from the oven and slice the squash.
Pear and cinnamon tart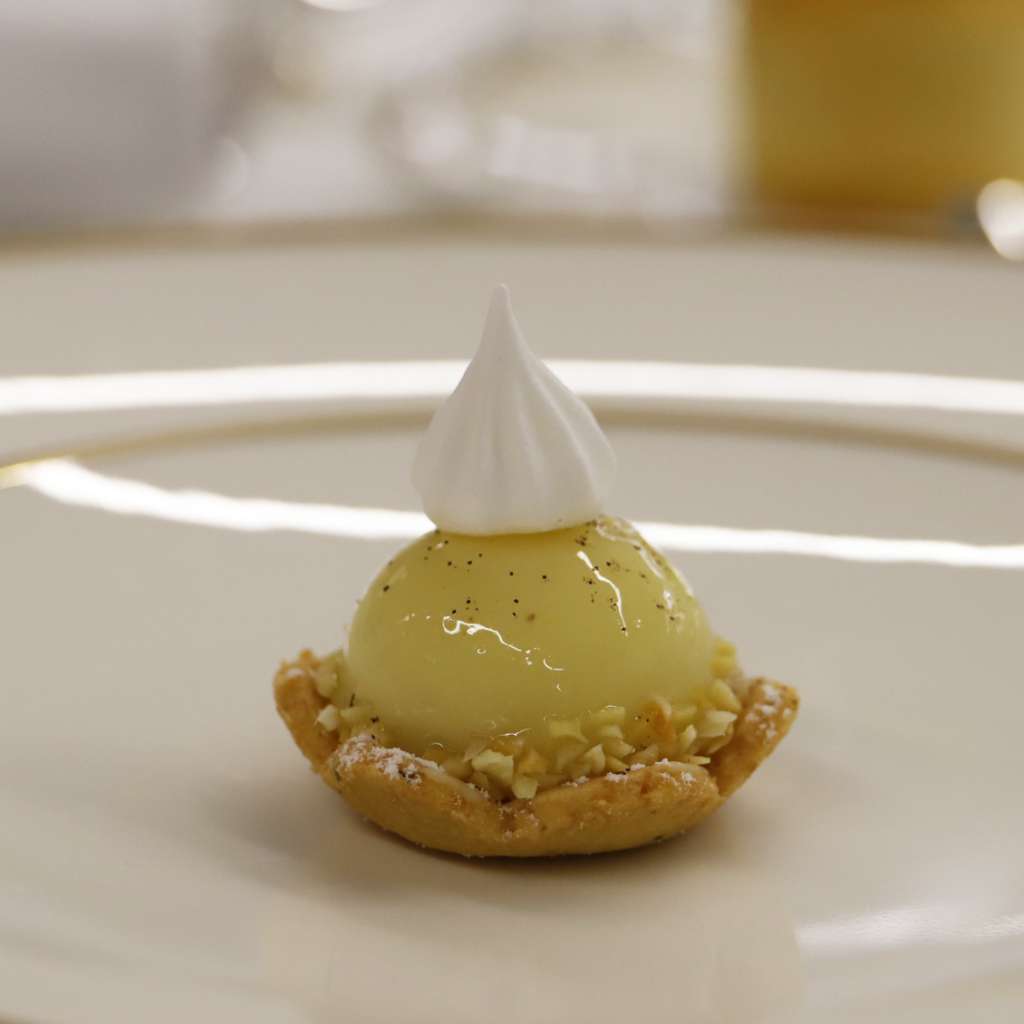 Ingredients
Cinnamon shortbread without lactose and gluten
10 g almond powder
34 g butter without lactose
32 g icing sugar
1 pinch of salt
19 g courgette purée
48 g rice flour
9 g corn flour
24 g potato starch
4 g tapioca starch
1 g cinnamon
Pear filling with no lactose
108 g lactose-free cream
300 g pear puree
100 g sugar
24 g maizena
39 g cocoa butter
1. Mix the almond powder and the butter.
2. Add the icing sugar and salt. Add the courgette purée. Add the flour and cinnamon. Reserve in the fridge on a plate. Lower to 2 Ø 9cm.
3. Bake between two silicone sheets at 145 ° C until slightly golden.
4. Heat the cream and pear puree.
5. Add sugar and cornflour and boil minute.
6. Add the cocoa butter off the heat and mix
7. Pour into the moulds immediately and put in the freezer. Moulds Ø 8 cm to 55 g.