The Amalfi Coast is a stunning stretch of coastline in southern Italy known for its dramatic cliffs, picturesque towns, and breathtaking views of the Mediterranean Sea. Here's a travel guide to help you make the most of your visit to this beautiful region: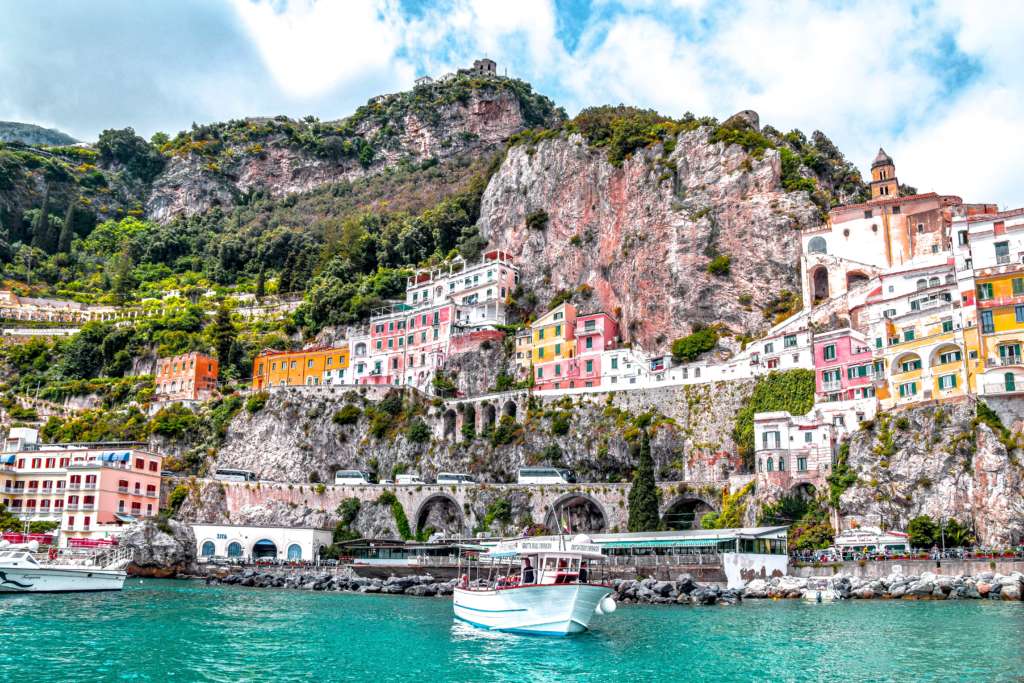 1. Destinations:
The Amalfi Coast is dotted with charming towns, each offering its unique charm:
Amalfi: The main town after which the coast is named. Explore the beautiful Duomo di Amalfi, relax on the beach, and wander through the narrow streets.
Positano: Famous for its colorful buildings cascading down the cliffs, Positano is a romantic and photogenic destination.
Ravello: Known for its stunning gardens and panoramic views, Ravello offers a quieter atmosphere and hosts music festivals during the summer.
Praiano: A quieter alternative with beautiful beaches and a relaxed atmosphere.
2. Getting Around:
By Car: Renting a car gives you the flexibility to explore the coast at your own pace. However, the narrow, winding roads can be challenging to navigate.
By Bus: The SITA bus service connects the towns along the coast and offers a convenient and cost-effective way to travel between them.
By Boat: Ferry services operate between the towns, providing a scenic way to travel and offering gorgeous views of the coastline from the sea.
3. Must-See Attractions:
Grotta dello Smeraldo (Emerald Grotto): Take a boat tour to explore this stunning sea cave with emerald-colored water and unique rock formations.
Villa Cimbrone and Villa Rufolo: Visit these historic villas in Ravello to enjoy their beautiful gardens, architecture, and panoramic views.
Path of the Gods (Sentiero degli Dei): Hike this famous trail for breathtaking vistas of the coast and surrounding landscapes.
4. Beaches:
Spiaggia Grande, Positano: The main beach in Positano, known for its stunning backdrop and clear waters.
Fornillo Beach, Positano: A smaller, quieter beach just a short walk from Spiaggia Grande.
Arienzo Beach, Positano: Accessible by boat or a steep walk, this beach offers a tranquil escape.
5. Cuisine:
Local Delicacies: Indulge in fresh seafood, handmade pasta, and locally produced limoncello.
Lemon Everything: The region is famous for its lemons, so don't miss trying lemon-flavored treats like gelato and pastries.
6. Tips:
Travel Season: The best time to visit is during the shoulder seasons of spring (April to June) and fall (September to October) when the weather is pleasant and the crowds are thinner.
Accommodation: Book accommodations well in advance, especially if you're visiting during the peak summer months.
Pack Comfortable Shoes: Many towns have steep streets and steps, so comfortable walking shoes are essential.
Cash: While credit cards are widely accepted, it's a good idea to have some cash on hand for small purchases and for places that might not accept cards.
Respect Local Customs: Be mindful of local customs, such as appropriate dress when visiting churches or religious sites.
The Amalfi Coast is a true Mediterranean gem, offering a blend of natural beauty, cultural richness, and delicious cuisine. Whether you're exploring the charming towns, lounging on the beaches, or hiking along the cliffs, you're sure to create unforgettable memories in this enchanting part of Italy.