This post is also available in: Français (French)
The Alimentarium in Vevey has been around for as long as I can remember. I have very vivid memories of school trips and birthday parties taking place here regularly and it was always somewhere I looked forward to visiting. Recently, underwent a huge renovation and I was delighted when the occasion presented itself and I was able to visit and take part in a cooking workshop.
The Alimentarium
For over 30 years already, the world's first-ever food-themed museum has been sharing a global and independent view of the many aspects of the human diet. Its multidisciplinary, cultural, historical, scientific and nutritional-focused approach and its bold and original programme of activities have established the Alimentarium as a reference on food.
Originally, this building was used as Nestlé offices, back in 1921 and it was only on 21st June 1985 that it officially opened as a museum. If you go to The Salle Nestlé on the first floor, it is the only room in the building to preserve its original splendour.
The Fork that you may find just outside the Alimentarium in Vevey is an 8m statue made of stainless steel. It was designed by Jean-Pierre Zaugg, a sculptor from Neuchâtel, Switzerland and embedded in the lake in February 1995 to commemorate the Alimentarium's tenth anniversary. It was initially intended to grace the lakeshore in front of the Museum for one year. But as you can see, years later, this statue has become an important symbol in Vevey.
The Museum
The museum experience has undergone a complete digitalisation which has added a great deal of value for anyone who steps foot into the Alimentarium.
There are 3 clear themes: The Food Sector, The Society Sector, The Body Sector and then there are guest exhibitions which take place over a few months, the current one which ends 31st March 2019 is called The Face Behind Food.
As you make your way through the various sectors, there are many interactive points either through videos, games which play upon your senses. Interactivity is the central element of the immersive scenography and is highlighted by a great game in each of the three sectors.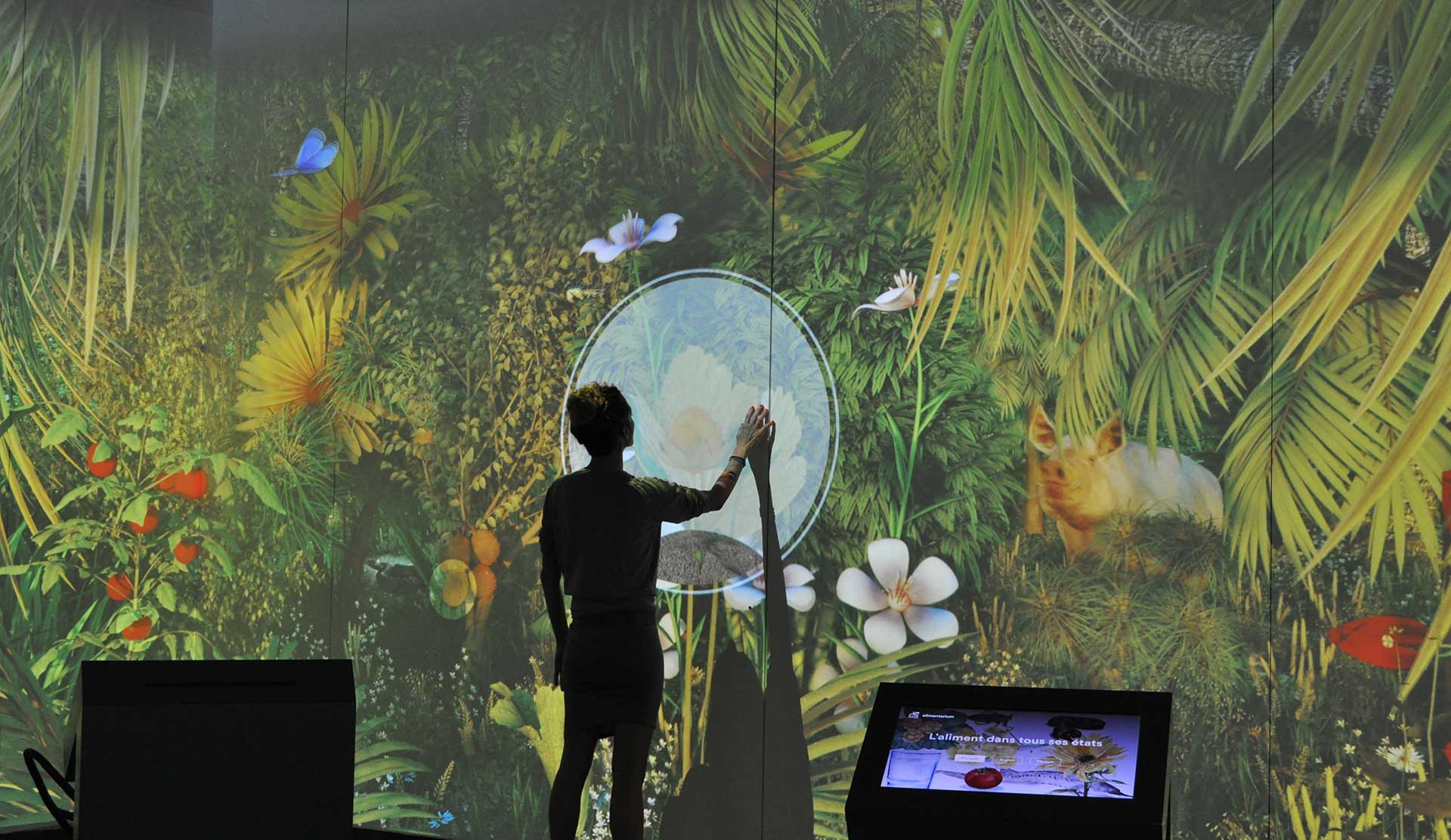 I wish I could have had more time to enjoy the exhibition but we were taken into the Alimentarium Garden which is actually a very special place.
The Garden
The Alimentarium have a Kitchen Garden and they use the produce in their Café & Restaurant as well as in the cooking workshops. Its ever changing landscape evolves with our 4 seasons and it was absolutely fascinating walking around with the Chef who explained the various herbs and vegetables which were currently growing in the garden. I would need to come back later on in the year to see it in full bloom and full of life as during the Winter months, naturally, there are fewer fruits and vegetables growing. The most fascinating tree that they have, is the kiwi tree! I would love to see actual kiwis growing in Vevey.
The Culinary Workshop
The workshop takes place every Saturday from 15:00-18:00 and you can do them in either English or French. The aim of these culinary workshops is to discover and meet local producers in Vevey. We set off with one of our chef and we made our way around certain establishments, collecting vegetables and other bits and pieces. On the menu for us was Jerusalem Artichoke soup, sushi and a delicious pear compote.
If I am being honest, I had never cooked or tasted Jerusalem artichoke but it was so delicious and very filling. I really enjoyed the flavour and texture of this soup.
We then moved onto making some sushi, and honestly, this was my first time ever ! I had never decided to attempt it myself but it really is not as scary as all that. The Chef really explained the importance of quality products such as the rice and the vinegar in order to achieve that perfect sushi rice flavour and consistency. I think that my salmon sushi rolls turned out pretty well !!
Next, we made teriyaki chicken, my favourite !! I absolutely love this dish. I learn that it is always best to use chicken thighs and it is vital to have bits of leeks to separate the chicken on the skewers. It helps to cook them evenly!
To end our cooking workshop, we made a pear compote. Simple yet effective ! We spiced it up using an usual herb, Mexican tarragon and it really gave an unusual but delicious taste to the dish.
I had such a great afternoon with Naomi at the Alimentarium during this cooking workshop and I would highly recommend that you book a class with a friend or two!
For more information or to sign up for a cooking workshop at the Alimentarium please go to: https://www.alimentarium.org/en
0
(Visited 1 times, 1 visits today)